Heart Attack Finding: Married Men Get Help Quicker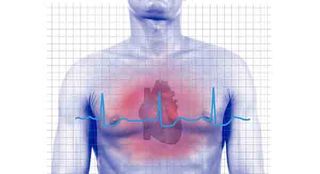 (Image credit: Dreamstime)
Married men are more likely to quickly seek medical attention for a heart attack than men who are single, divorced or widowed, a new Canadian study shows. Married women, however, don't seem to get the same benefit from marriage.
Getting prompt medical treatment for chest pain is vital for heart attack victims, because the longer a patient puts off going to the emergency room, the lower their chances of surviving.
"Earlier attainment of medical care may be one reason why married men have a lower risk of cardiovascular mortality than their single counterparts," wrote study researcher Clare Atzema of the Institute for Clinical Evaluative Sciences (ICES) in Ontario.
Researchers analyzed the admittance of 4,403 heart attack patients to 96 acute care hospitals in Ontario from April 2004 to March 2005. The patients' average age was 67.3 years, and 33.7 percent of them were female.
The researchers recorded the patients' marital status and whether their arrival at the hospital had been delayed, which they defined as more than six hours after the onset of chest pain.
The findings showed that married men were 35 percent more likely than single men to arrive within six hours of developing symptoms.
For married women, however, there was no difference in hospital arrival times as compared with single or widowed women.
"We surmise that, in general, women may be more likely than men to take the role of caregiver and to advise their spouses to seek early medical assessment," the authors wrote. "Awareness of the differences in reasons for delay by sex could facilitate the development of targeted public health campaigns as a way to reduce patient-caused delay among those at risk."
Marriage has proved to be beneficial to men's health in numerous other studies. Previous research shows that married men live longer, are happier and adopt healthier lifestyles than single men. Married men are also less likely to engage in aggressive or illegal behavior.
The study research was published yesterday (July 18) in the Canadian Medical Association Journal.
This story was provided by MyHealthNewsDaily, sister site to LiveScience.
Stay up to date on the latest science news by signing up for our Essentials newsletter.
Remy Melina was a staff writer for Live Science from 2010 to 2012. She holds a bachelor's degree in Communication from Hofstra University where she graduated with honors.