Americans Mouth Off About Poor Customer Service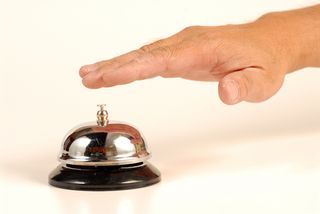 (Image credit: Dreamstime)
Bad customer service gets many Americans' blood boiling, according to a new survey out this week -- with more than half saying they have lost their temper and one in five men firing off a few choice expletives during frustrating service situations.
And those aren't the only ways consumers show their displeasure with poor customer service.
According to the survey, conducted by American Express Global Customer Service Barometer, nearly two-thirds of those who lost their temper demanded to speak to a supervisor, and 39 percent threatened to take their business to a competitor.
In general, poor customer service leaves a bad taste in consumers' mouths, the survey said, leading them to discuss their bad experiences nearly twice as much as good ones with friends and family.
While it is clear Americans aren't shy about expressing their feelings in a bad situation, when it comes to positive interactions, they let their wallets do the talking.
In the survey, seven out of ten respondents said they're willing to spend an average of 13 percent more with businesses that they feel provide excellent customer service. That number is up substantially from last year, when just 58 percent said they were willing to spend 9 percent more for great service.
Americans place more of a premium on customer service than any of the other 10 countries studied, aside from India, where consumers were willing to spend 22 percent more for quality service.
Despite consumer's clear desire for better customer service, most feel businesses aren't placing a high enough priority on it. According to the survey, 60 percent believe businesses haven't increased their focus on providing good customer service, with 26 percent thinking businesses are paying less attention to it.
Among respondents' top service frustrations: waiting on hold for a customer representative, only to hear a constant recording and intermittent music.
More than 25 percent of those who took the survey specifically said they were most annoyed by the three most commonly used customer service phrases: "We're unable to answer your questions. Please call XXX-XXX-XXXX to speak to a representative from XXX team;" "We're sorry, but we're experiencing unusually heavy call volumes. You can hold or try back at another time;" and "Your call is important to us. Please continue to hold."
For businesses, the message is clear, said Jim Bush, executive vice president for World Services at American Express --customer service can make or break you.
"Getting service right is more than just a nice to do; it's a must-do," Bush said in a statement. "Ultimately, great service can drive sales and customer loyalty."
The American Express Global Customer ServiceBarometer research, designed to exploreattitudes and preferences toward customer service,was completed online among a random sample of 1,018 U.S. consumers over the age of 18. Similar samples were gathered in Canada, Mexico, France, Germany, Italy, United Kingdom, the Netherlands, Australia and India.
This story was provided by BusinessNewsDaily, a sister site to LiveScience.
Stay up to date on the latest science news by signing up for our Essentials newsletter.