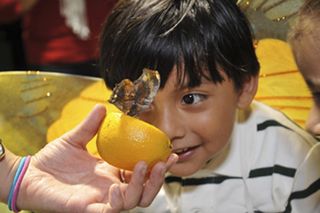 (Image credit: AMNH/D. Finnin.)
NEW YORK — Four- and 5-year-old children from the Goddard Riverside Head Start program strapped on butterfly wings and fluttered (albeit with both feet on the ground) through a live exhibit while butterflies flapped around and perched on lucky visitors.
Wide-eyes and giggles filled the vivarium — think big walk-in butterfly tank — at the American Museum of Natural History yesterday (Oct. 14) during a preview of the Butterfly Conservancy's 13th annual exhibit of live butterflies. [See the museum's amazing tropical butterflies]
The exhibit will run from Oct. 16 to May 30, 2011, and is the perfect opportunity to give the public an up-close look at the butterflies' natural beauty, said Hazel Davies, manager of Living Exhibits at the museum, who has been involved with the exhibit since its inception.
Inside the 1,200-square-foot- (112-square-meter-) vivarium, roughly 500 butterflies swoop among tropical plants and trees in the 80-degree-Fahrenheit (27-degree-Celsius) exhibit. Exhibit managers held orange slices to attract the butterflies to their hands while wandering through the vivarium. Butterflies mostly rely on smell to find their way around — their antennae are equipped with odor sensors — but to identify the orange slices as food, they use taste sensors on their feet.
The butterflies came from Florida, Costa Rica, Kenya, Thailand, Malaysia, Ecuador and Australia. The average adult butterfly is alive for only a few weeks, so each week roughly 500 new butterflies are shipped to the museum as pupae — the stage in a butterfly's development when it transforms from a caterpillar to an adult butterfly — to replenish the exhibit.
Mixed in with the beautiful butterflies are their close relatives — moths. Butterfly antennae are thickened, or clubbed, at the tips, while moth antennae are most commonly straight or feathered. Moths also have chubbier bodies.
Moths are most easily spotted when resting, because they spread their wings while hanging out. Butterflies, however, hold their wings together above their backs.
The Atlas moth is one of the stars of the butterfly exhibit. Atlas moth females, with their impressive wingspans, are hard to miss. One lazy female was hiding at the top of the vivarium, with her 12-inch- (30-centimeter-) wingspan on full display.
"A lot of people don't think of moths as beautiful, but they really are," said Jessica Oreck, who works with the museum's live exhibitions. "I think they are amazing."
This story was provided by OurAmazingPlanet, a sister site to LiveScience.
Stay up to date on the latest science news by signing up for our Essentials newsletter.
Brett Israel was a staff writer for Live Science with a focus on environmental issues. He holds a bachelor's degree in biochemistry and molecular biology from The University of Georgia, a master's degree in journalism from New York University, and has studied doctorate-level biochemistry at Emory University.