Illegal Logging Down, New Report Reveals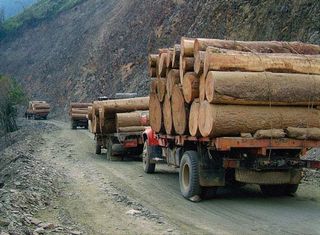 (Image credit: Global Witness.)
The unauthorized destruction of the planet's tropical forests has dropped by more than 22 percent in the last decade, boosting hopes that international efforts to fight illegal logging are succeeding. That's according to a new report by an independent London-based think tank.
Researchers examined five major producers of contraband timber: Ghana, Malaysia, Cameroon, Brazil and Indonesia. Although unauthorized logging is down in all five nations, the latter three countries exhibited particularly steep declines, between 50 and 75 percent.
Sam Lawson, lead author of the report, said the results from deforested Indonesia were especially encouraging.
"We looked at five national parks where illegal logging had been incredibly rampant, and it had been almost completely halted," Lawson said.
However, this precipitous drop in a few places doesn't mean the contraband timber trade is disappearing. In 2009 alone, the five nations studied harvested more than 3.5 billion cubic feet of forbidden lumber.
"If laid end to end, the illegal logs would encircle the globe more than 10 times over," said Larry MacFaul, co-author of the report.
An awful lot of those logs are ending up in China, where they are "processed" and turned into furniture and plywood. And although China is the world's top importer and exporter of banned wood, Lawson said much of the blame for the continuing black-market timber trade lies with the "consumer" countries that buy China's ill-gotten goods.
In 2008, the study says, the United States, Japan, the United Kingdom, France and the Netherlands spent a combined $8.4 billion U.S. on illegal wood products.
The United States is making efforts to keep contraband timber out of the country. In 2008, a federal law targeting illicit logging made it illegal to import or sell wood of unknown provenance. However, it's difficult to track illegal wood's murky origins once it's a pressboard bookshelf in a store.
"Supply chains can be quite complicated," Lawson said. And although some innovative, scientific techniques for tagging and tracking timber on its journey from forest to factory are in development, Lawson said international cooperation in both the public and private sectors offers the best weapon against illegal deforestation.
"Our study shows that consumer interest and pressure combined with action by producer countries can yield very positive results," Lawson said.
This article was provided by OurAmazingPlanet, a sister site to LiveScience.
Stay up to date on the latest science news by signing up for our Essentials newsletter.
Andrea Mustain was a staff writer for Live Science from 2010 to 2012. She holds a B.S. degree from Northwestern University and an M.S. degree in broadcast journalism from Columbia University.