Another year of skywatching is upon us, and there's a lot to look forward to in 2022!
Here are some of the more noteworthy sky events that will take place this upcoming year. Space.com's Night Sky column will provide more extensive coverage of most of these events as they draw closer.
Mid-February to mid-March: The Venus show
The most brilliant of all the planets will grace the predawn morning sky, shining low in the southeast sky a couple of hours before sunrise. Venus will attain its greatest brilliance on Feb. 13, and through small telescopes and steadily-held binoculars it will resemble a lovely crescent phase. On March 20 — the first day of spring — it will have waned to a half-moon phase while attaining its greatest western elongation from the sun. And along the way, the moon will engage it in a lovely celestial tableau on Feb. 26.
April 5: The God of War meets the Lord of the Rings
Low in the east-southeast sky before sunrise we'll be treated to a rather tight conjunction this morning, as Mars slips less than 0.4 degrees below Saturn. What will make this an especially striking naked-eye sight will be that these two worlds are practically the same brightness (Saturn, magnitude +0.9, Mars +1.0) and the color contrast between yellow-white Saturn and orangish Mars. And 7 degrees to their will gleam dazzling Venus. Well worth setting your alarm clock for 5:30 a.m. to see!
Late April/early May: Possible naked-eye comet?
Comet C/2021 O3 (PanSTARRS) will pass to within 26.6 million miles (42.8 million kilometers) of the sun on April 21 and could possibly brighten to fourth magnitude — bright enough to glimpse with bare eyes — during the final week of April into early May. If visible, it will be low in the west-northwest sky shortly after sunset in the spring evening sky. We'll just have to wait and see.
April 27–30: Celestial summit meeting
During the latter half of April, watch as Jupiter begins to ascend from beyond the east-southeast horizon and approaches Venus. On April 27, a striking gathering of the three brightest objects in the nighttime sky will be visible in dawn twilight as a waning crescent moon slides below Jupiter and Venus, which will be separated by 3 degrees. How would the ancient skywatchers have interpreted this summitry?
Then on April 30, a striking "double planet" will call attention to all early risers as Jupiter and Venus will appear side by side ... Jupiter on the left, Venus on the right ... and separated by only 0.5 degrees. Although Jupiter will glow with a lustrous magnitude of -2, Venus manages to outshine it by two magnitudes and appears more than six times brighter.
April 30: A partial eclipse of the sun
The dark shadow cone of the moon, from where a total eclipse can be seen, will completely miss the Earth, passing approximately 750 miles (1,200 km) below the South Pole.
But the moon's outer shadow, or penumbra, does scrape a part of the Southern Hemisphere, resulting in a partial eclipse that will be visible in varying extent near sunset across a swath of the South Pacific Ocean, and southern and western portions of South America, including Chile, Argentina, Uruguay, southern Peru southern Bolivia, western Paraguay and a tiny slice of Brazil.
Greatest eclipse takes place over the South Pacific Ocean, 300 miles (480 km) to the northwest of Yelcho Base, a Chilean Antarctic Research Base at South Bay, Doumer Island. A ship or trawler near this spot will see the sun will barely clear the west-northwest horizon, with nearly two-thirds of its diameter hidden behind the moon. The normally thick horizon haze could attenuate and redden somewhat the sun's light giving it the appearance of a slice of cantaloupe melon.
May 15-16: A total eclipse of the moon
This event is almost perfectly timed for most of the Americas. The moon will become totally eclipsed near or just after moonrise along the Pacific coast of Oregon and Washington State and across much of western and north-central Canada, transforming the Moon into a ruddy, ghostly orb, "magnified" as it comes above the east-southeast horizon by the well-known "moon illusion" and perhaps nicely framed by distant landmarks.
From Hawaii, moonrise coincides with the end of totality; unfortunately for much of Alaska, the eclipse ends before moonrise. Across the Atlantic Ocean, moonset will intervene across much of Africa and Europe; much of central Europe will experience the drama of totality as the Moon sets. Totality will last quite a bit longer than average: one hour and 24 minutes.
The moon will pass south of the center of the Earth's shadow, so during the total phase the lower part of the moon will appear brightest while its upper portion should appear noticeably darker and more subdued. However, the brightness and colors that appear on the moon will solely depend on the state of our atmosphere; a chaotic brew of clouds, volcanic dust and other contaminants, so it's hard to say in advance exactly how the totally eclipsed moon might look.
May 30-31: Possible outburst of slow-moving meteors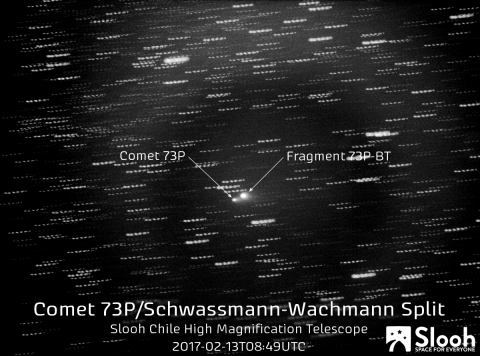 Perhaps the most dramatic sky event in 2022 could come during the overnight hours of May 30-31 for much of North America, when our planet sweeps through a dense cloud of meteoroids expelled by the fracture of the nucleus of a small comet (73P/Schwassmann-Wachmann 3).
This unusual cosmic interaction perhaps could result in an amazing, albeit brief display of slow-moving meteors — popularly known as "shooting stars" — perhaps numbering in the many dozens ... or even hundreds per hour.
Second half of June: Five planets align
All five naked-eye planets will be visible simultaneously, arrayed in a line that will span the eastern and southeastern morning twilight sky during the last two weeks of June. What is even more amazing is that they will all be aligned in their correct order out from the sun: Mercury, Venus, Mars, Jupiter and Saturn.
And the moon, waning from a gibbous to a slender crescent phase, will pay a visit to each planet on specific mornings: Saturn on June 18; Jupiter on June 21; Mars on June 22; Venus on June 26 and finally Mercury on June 27.
July 13: Biggest full moon of 2022
The moon turns full at 2:38 p.m. EDT (1838 GMT), and 9 hours and 37 minutes earlier it will arrive at its closest point to the Earth in 2022 at a distance of 221,994 miles (357,264 km). Colloquially referred to as a "supermoon." Expect a large range in ocean tides (exceptionally low to exceptionally high) for the next few days.
Aug. 12: Perseid meteor shower peaks
More of a low-light than a highlight; the annual summer performance of the Perseid meteor shower will be severely hindered by the light of a full moon.
Sept. 26: Perihelic opposition of Jupiter
The largest planet in our solar system will arrive at opposition as well as make its closest approach to Earth since October 1963; a distance of 367.4 million miles (591.2 million km). The big planet will loom large and very bright against the dim stars of the constellation Pisces, the fishes.
Oct. 25: Partial eclipse of the sun
To produce this eclipse, the moon's shadow falls chiefly on the north polar regions of Earth. It will be visible from an eastern slice of Greenland and all of Iceland, as well as most of Europe (except Portugal and the western and southern portions of Spain), northeast Africa and in varying extent over much of western and central Asia. Greatest eclipse — with nearly seven-eighths of the sun's diameter hidden — occurs at local sunset over the West Siberian Plain near the city of Nizhnevertovsk (pop. ~260,000), one of the wealthiest cities in Russia.
Nov. 8: Total eclipse of the moon
This eclipse favors the western half of North America, the Hawaiian Islands, eastern Asia, Indonesia, New Zealand and the eastern half of Australia. Along the Atlantic Seaboard, the moon will set while it begins to emerge from total eclipse. The moon will pass to the north of the center of the shadow and as was the case in May, totality will be unusually long, lasting one hour 25 minutes. So as a consequence, we might expect a moderately dark eclipse, possibly featuring a brownish hue across the lower part of the moon, contrasted by a brighter coppery red upper rim.
Dec. 7-8: An "M&M" night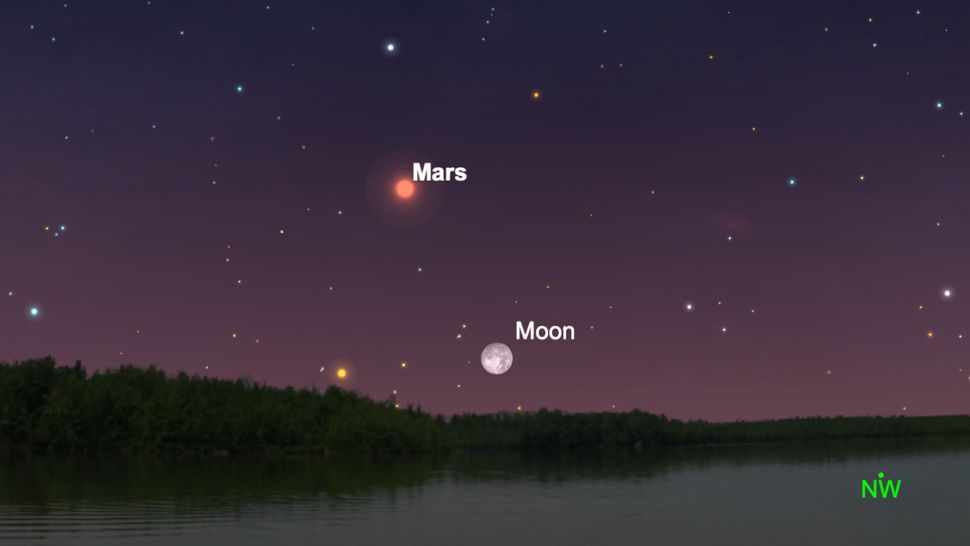 During the evening hours of Dec. 7, the full moon will pass exceedingly close above Mars, actually hiding it (called an occultation) for parts of North America, no doubt evoking a question that will be repeated many times that night: "What is that bright yellow-orange star just below the moon?"
Mars will arrive at opposition to the sun on Dec. 8, rising as the sun sets, reaching its highest point in the sky at midnight and setting at sunrise. It will then be shining at magnitude -1.9, outshining even Sirius, the brightest of all stars in our night sky.
Dec. 13-14: Geminid meteor shower peaks
Another low-light. The Geminid meteor shower, now ranked as the best of the annual meteor showers, has the misfortune of occurring during the time of the last quarter moon, which will pretty much squelch all but the brightest meteors during the after-midnight hours.
Joe Rao serves as an instructor and guest lecturer at New York's Hayden Planetarium. He writes about astronomy for Natural History magazine, the Farmers' Almanac and other publications. Follow us on Twitter @Spacedotcom and on Facebook.
Stay up to date on the latest science news by signing up for our Essentials newsletter.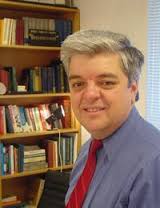 Joe Rao is a television meteorologist in the Hudson Valley, appearing weeknights on News 12 Westchester. He has also been an assiduous amateur astronomer for over 45 years, with a particular interest in comets, meteor showers and eclipses. He has co-led two eclipse expeditions and has served as on-board meteorologist for three eclipse cruises. He is also a contributing editor for Sky & Telescope and writes a monthly astronomy column for Natural History magazine as well as supplying astronomical data to the Farmers' Almanac. Since 1986 he has served as an Associate and Guest Lecturer at New York's Hayden Planetarium. In 2009, the Northeast Region of the Astronomical League bestowed upon him the prestigious Walter Scott Houston Award for more than four decades of promoting astronomy to the general public.