'Monster cane toad' dubbed 'Toadzilla' found in Australia
Rangers in Australia stumbled upon a giant cane toad resembling a "football with legs"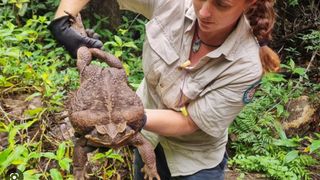 (Image credit: Queensland Department of Environment and Science)
A jumbo-size cane toad (Rhinella marina) captured in Queensland, Australia, has tipped the scales at a whopping 6 pounds (2.7 kilograms), earning it the nickname "Toadzilla" and likely making it the largest example of the species on record.
Rangers stumbled upon the hefty amphibian on Jan. 19 in Conway National Park while they were conducting track work. They announced their discovery via a tweet, writing that they were "shocked to find a monster cane toad" that weighed as much as a rooster.
"I just couldn't believe it to be honest — I've never seen anything so big," Kylee Gray, a ranger for the Queensland Department of Environment and Science, told the Australian Broadcasting Corporation (ABC). "It flinched when I walked up to it and I yelled out to my supervisor to show him. [It looked] almost like a football with legs."
Related: What's the difference between a frog and a toad?
Gray described the find as "a big warty, brown, ugly cane toad just sitting in the dirt," and she and her colleagues think it was a female, "due to the size, and female cane toads do grow bigger than males."
The official largest known toad on record is a cane toad (also called a marine toad) found in 1991, also in Australia, that weighed 5 pounds, 13 ounces (2.65 kg), according to Guinness World Records.
After weighing the portly toad found at the national park, rangers euthanized it "due to the environmental damage they cause," they wrote in the tweet.
"A cane toad that size will eat anything it can fit into its mouth," Gray told ABC, "and that includes insects, reptiles and small mammals."
CNN reported that the toad's remains have been sent to the Queensland Museum for further analysis.
Stay up to date on the latest science news by signing up for our Essentials newsletter.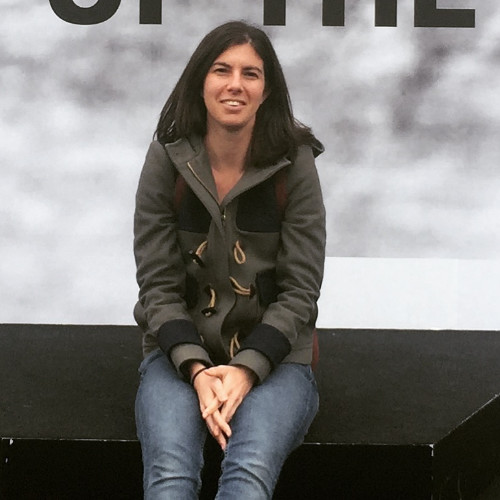 Live Science Staff Writer
Jennifer Nalewicki is a Salt Lake City-based journalist whose work has been featured in The New York Times, Smithsonian Magazine, Scientific American, Popular Mechanics and more. She covers several science topics from planet Earth to paleontology and archaeology to health and culture. Prior to freelancing, Jennifer held an Editor role at Time Inc. Jennifer has a bachelor's degree in Journalism from The University of Texas at Austin.