Iceland volcano LIVE: Risk of eruption appears to be decreasing
Latest updates on the imminent volcanic eruption in Iceland, which threatens local towns and the famous Blue Lagoon spa resort following a series of earthquakes and the appearance of sinkholes.
News
Contributions from
last updated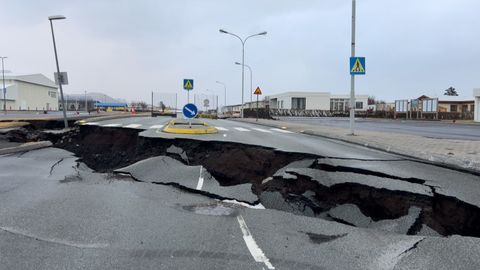 (Image: © Micah Garen via Getty Images)
This live blog has now ended as a result of the reduced risk of an eruption. It will be restarted if activity signalling imminent threat resumes.
Iceland is bracing for an imminent volcanic eruption on the Reykjanes Peninsula, in the southwest corner of the island. Grindavík, a small fishing town with a population of around 2,800 people, has been evacuated after a sinkhole measuring 3.2 feet (1 meter) deep appeared in the town.
Seismic activity began increasing in the area around the Fagradalsfjall volcano on Oct. 25, when more than 1,000 earthquakes north of Grindavík occurred in the space of just hours. Two strong earthquakes, measuring magnitudes 3.9 and 4.5, hit at a depth of around 3 miles (5 kilometers). Over the following two weeks, seismic activity continued, with hundreds of earthquakes and uplift recorded each day, indicating that magma is accumulating beneath the ground.
On Nov. 11, Icelandic Met Office (IMO) data showed there was a "magma tunnel" about 9.3 miles (15 km) from Sundhnúk in the north down to Grindavík and into the sea. Experts say an eruption could take place anywhere along this tunnel — also known as a dike.
Timeline of events:
Nov. 20 — IMO releases new map showing extended "danger zone" around the magma dike. Hagafell currently considered the most likely spot for a fissure to appear.
Nov. 15 — IMO reports seismic activity has remained consistent since Nov. 11, with monitoring centered around Grindavík.
Nov. 14 — Icelandic authorities create makeshift defenses to protect the Svartsengi geothermal power plant from lava flows.
Nov. 10 — Grindavík evacuated due to the increase in seismic activity gravitating towards the fishing village. Icelandic authorities declare a state of emergency.
Nov. 9 — The largest recorded earthquake since the swarm began reaches a magnitude of M4.8. Blue Lagoon geothermal resort, one of the country's most famous tourist attractions, is temporarily closed.
Nov. 4 — Seismic activity decreases considerably, but Icelandic Meteorological Office continues to monitor the situation.
Oct. 25 — Seismic activity in the Reykjanes Peninsula increases with more than 1,000 earthquakes registered in the area, the largest with a magnitude of M4.5.