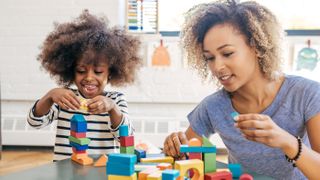 (Image credit: kate_sept2004 via Getty Images)
Many toys are labeled as "STEM toys," with claims that they teach kids science, technology, engineering and math. But very few toys that hold these claims are actually studied. Some may be fun but not particularly educational; others focus on STEM topics but may not hold kids' attention for long.
The research on educational toys suggests that some of the best STEM toys are the classics. Anything that allows children to build, play, experiment and build again — in an endless array of variations — will teach spatial and mathematical skills. Many of these activities can be done with free or cheap materials just as well as with pricier options.
According to Kathy Hirsh-Pasek, a psychologist at Temple University who studies learning in early childhood, the best STEM toys are active, engaging, meaningful, social and fun. This list highlights some examples that researchers have studied directly or that check those boxes.
Best STEM Toys for Toddlers (ages 2-5)
Wooden Blocks
Wooden and other types of blocks are a "magical" toy for young children, said Jeffrey Trawick-Smith, a professor emeritus at the Center for Early Childhood Play at Eastern Connecticut University. They allow for endless creativity, meaning kids can return to the same set again and again (unlike some toys that kids play with for a day and then forget forever). They also encourage social play and mathematical thinking. A study in the Journal of Early Childhood Research by Trawick-Smith and colleagues found that when preschoolers played with blocks with a high level of social interaction, they built more complex structures. Building complex structures was associated with gains in math learning.
Tinkertoys
For a decade, the Center for Early Childhood Play at Eastern Connecticut University has conducted the TIMPANI Toy Study, which evaluates how different toys elicit creativity, problem-solving, cooperation and use of language, all skills that feed into STEM learning. The list of annual winners is a great starting point for finding STEM toys. One standout was 2011's winner, Tinkertoys, Trawick-Smith told Live Science, another classic of childhood. Preschoolers not only constructed a wide variety of structures, they also incorporated movement and imagination into their play. For example, many made helicopter structures and then began "flying" around the room.
Magnetic tile building blocks
Magnetic tile building blocks allow kids to learn about engineering concepts and organically teach children about the nature of shapes (not enough square tiles? Click together two triangles). In the 2013 TIMPANI toy study, magnetic tiles impressed researchers by prompting kids to problem-solve. The magnetism spurred the kids' creativity and interest in experimenting, they found. These toys have lasting power and are engaging for kids in elementary school, as well.
Board games
Toys for coding
Puzzles for STEM
Puzzles stretch the brain's spatial abilities, and kids can complete surprisingly complex jigsaws, Trawick-Smith said. A 2012 study in the journal Developmental Psychology found that kids who regularly played with puzzles between ages 2 and 4 years of age showed better performance on a task that required them to mentally rotate and move shapes at age 4.
Best STEM toys for School-age (5 and up)
LEGO
A step up from Mega Bloks and Duplo, LEGO is the classic building toy that encourages spatial reasoning and creativity.
Card games
Card games encourage a grasp of counting and basic math, and they encourage the social connections that help kids enjoy STEM activities. Some kid-centric card packs come with decks designed for Crazy 8s, Go Fish, Memory and other childhood games. A plain old deck of cards can be used to play most of these games, plus other kid-friendly games like War.
Puzzles
Elementary schoolers can benefit from puzzles, just as preschoolers, but they'll need bigger challenges. Depending on age, kids can try 100-piece puzzles, 200-piece puzzles, or work with the whole family on larger, more complex offerings.
Board games
Any board game that requires counting or the use of dice or a numerical spinner will teach kids math without them even realizing it, according to Trawick-Smith. Math-friendly elementary-school level choices abound, including Monopoly Jr or Enchanted Forest, a game that requires kids to count strategically to reach particular spots on the board.
Train and car tracks
Train tracks: "Tell me one elementary school kid or middle-school kid who doesn't like a good wooden or electric train set," Hirsh-Pasek said. The 2013 TIMPANI toy study found that a simple Brio wooden train set encouraged lots of imaginative play in children, and that train sets were particularly good at promoting cooperation.
Best STEM Toys for Coding (ages 5+)
Best STEM Toy Deals