'Gold find of the century': Metal detectorist in Norway discovers massive cache of jewelry
An amateur metal detectorist hit pay dirt in Norway, finding a collection of 1,500-year-old gold jewelry.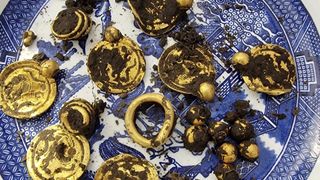 (Image credit: Ereland Bore)
An amateur metal detectorist has unearthed what experts are calling Norway's largest gold treasure find this century.
Erlend Bore, a 51-year-old Norwegian man, discovered the bounty — which contained nine pendants with "rare" gold symbols, three gold rings and 10 gold pearls — earlier this summer while exploring Rennesøy, a private island off the southwestern coast of the country, according to a translated statement.
During his expedition, which was approved by the private landowner, Bore didn't expect to find much. But then his newly purchased metal detector started beeping as he traced it back and forth above the soil. A quick dig revealed an old wrapper from a chocolate bar. But then he spotted a lump protruding from the dirt.
"I was suddenly sitting with a gold treasure in my hands," Bore told the Norwegian Broadcasting Corporation (NRK), a Norwegian government-owned radio and TV public station. "There were lots of little gold pearls. Here it was important to get everything and not lose anything."
Related: 'Eye-catching' gold hair ring and Britain's oldest wooden comb found in Bronze Age burial
He said his discovery was "completely unreal" and immediately contacted authorities, who confirmed that the gold treasure weighed approximately 3.5 ounces (100 grams), according to the statement.

"This is the gold find of the century in Norway," Ole Madsen, director of the Museum of Archaeology at the University of Stavanger, said in the statement. "To find so much gold at the same time is extremely unusual."
Experts with the museum determined that the flat, gold pendants date to around A.D. 500, during the time of the Migration Period (also known as the Barbarian invasions), when there was no Roman emperor ruling western Europe. While the pendants may look like gold coins, they're actually referred to as "bracteates" that were used as decorations.
Norway's Cultural Heritage Act states that anyone who discovers treasure will receive a finder's fee, which must be split evenly between the landowner and the finder.
Stay up to date on the latest science news by signing up for our Essentials newsletter.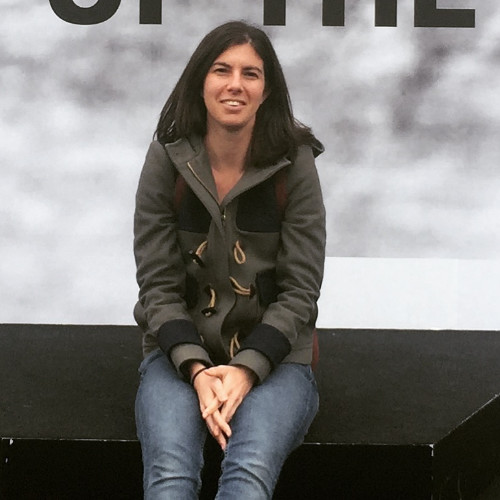 Live Science Staff Writer
Jennifer Nalewicki is a Salt Lake City-based journalist whose work has been featured in The New York Times, Smithsonian Magazine, Scientific American, Popular Mechanics and more. She covers several science topics from planet Earth to paleontology and archaeology to health and culture. Prior to freelancing, Jennifer held an Editor role at Time Inc. Jennifer has a bachelor's degree in Journalism from The University of Texas at Austin.