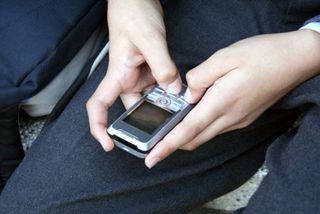 (Image credit: stockxpert)
What do you get when you give horny, tech-savvy kids cell phones? Something else for parents to worry about.
About 15 percent of American teenagers have received nude or semi-nude photos of their peers on their cell phones in a practice called "sexting," according to a new Pew Internet and American Life survey.
The nationally representative phone and written survey of 800 teens (ages 12 to 17, actually) also found that 4 percent of teens are sext message senders.
Girls are just as likely as boys to sext, and older teens and teens who pay for their own cell phone are most likely of all to engage in the naughty cell phone practice, the survey found.
Relationship currency
Teens in the survey said sext messages have become a form of "relationship currency" among their generation, Amanda Lenhart, Pew Senior Research specialist and author of the report, said in a statement.
"These images are shared as a part of or instead of sexual activity, or as a way of starting or maintaining a relationship with a significant other," she added.
"And they are also passed along to friends for their entertainment value, as a joke or for fun."
For some teens, sexting has become a part of the American dating ritual. Gone are the days of sending flowers to your crush. Instead, some guys sext naked pictures of themselves or their "private parts" to girls. "It happens about 10 times a month," one high school girl wrote.
The survey also confirmed some of parents' worse fears about sexting. Another high school girl wrote: "Sometimes people will get into fights with their exes, and so they will send the nudes as blackmail ..."
In addition, some teens admitted to feeling pressured to send sexually explicit photos of themselves.
Attitudes to sexting varied amongst the teens themselves. Some viewed it as a safer alternative to real life sex, while others worried about the legality of the practice and the potential for public release of the images.
Solutions?
So what is a parent to do? Marilyn Maxwell, a pediatrician at Saint Louis University who was not involved in the study, said the key thing is for parents to talk to their children.
"Sometimes parents are afraid to tell their kids what they want from them because they feel hypocritical because of the things they did as a young person," said Maxwell, who is a contributing author of the book "Questions Kids Ask about Sex: Honest Answers for Every Age."
Maxwell's advice: Get over it. "You have to get over feeling hypocritical because you want the best for your child," she said.
Parents should also establish ground rules before giving their child a cell phone. "Parents need to let their kids know up front that they have the right to read their text messages, emails, and other electronic communications if they suspect something is wrong," Maxwell said.
Finally, Maxwell said, parents should not think that they can relax their vigil once their child grows up.
"You may not need to take [your teen] to the bathroom and wipe their behind, but you need to be there."
Stay up to date on the latest science news by signing up for our Essentials newsletter.