The Terminator Tether Aims to Clean Up Low Earth Orbit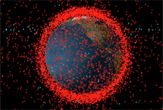 You wouldn't think that humanity has been this busy in space - but there are over eight thousand satellites and other large objects in orbit around the Earth, along with many smaller objects. These objects include spent vehicle upper stages, separation bolts, lens caps, momentum flywheels, nuclear reactor cores, auxiliary motors and launch vehicle fairings. Material degradation due to atomic oxygen, solar heating and solar radiation produces particulate matter. Solid rocket motors used to boost satellite orbits leave motor casings, nozzle slag, solid-fuel fragments and exhaust cone bits. More than 124 satellite breakups have been verified; many more are believed to have occurred; these are generally caused by explosions and collisions. Satellites or other objects in orbit higher than 700 kilometers will stay there for hundreds of years; LEO satellites have an average working life of just five years.
Studies have shown that low Earth orbit is not a limitless resource and should be managed more carefully. Some sort of debris-mitigation measures are needed to solve the problem of old, unusable satellites and space junk.
Arthur C. Clarke had exactly this problem when he was trying to build his fictional space elevator in his wonderful 1978 novel The Fountains of Paradise; he initiated Operation Cleanup:
It has been suggested that every satellite deployed should carry extra propellant so the satellite can boost itself up to a higher "graveyard" orbit. Unfortunately, not only must the extra kilograms of propellant be boosted up from Earth, the rocket and guidance systems must be usable for many years after launch. Also, graveyard orbits merely leave satellites up higher, where micrometeorite damage slowly causes these objects to break apart; smaller fragments will filter back down, leaving this problem for our children to solve. These smaller fragments are almost impossible to clean up.
Little, but lethal, the Terminator Tether
Extra propellant could also bring the satellite down; of course, this also requires that the rocket and guidance systems work at the end of the satellite's life. If either system fails to work, the satellite stays right where it is.
It would be more practical (as well as more responsible) to solve this problem at the start.
The Terminator Tether (TM) from TUI may be able solve this problem. Currently under development, the Terminator Tether will provide a low-cost, lightweight and reliable method of removing objects from LEO. It consists of a lightweight electrodynamic tether 5 kilometers in length wound onto a spool.
Here's how it works:
The Terminator Tether is bolted onto the satellite during construction. Once launched and operational, the device is dormant, waking up periodically to check the status of the satellite and to listen for activation commands. When the command to deorbit the spacecraft is given, the 5 kilometer cable is deployed. The cable interacts with ionospheric plasma and the Earth's magnetic field; this produces a current along the tether which causes a net drag on the spacecraft, lowering its orbit until it burns up in the Earth's atmosphere. (To find out about the forces that electrodynamic tethers bring to bear on spacecraft, read Electrodynamic Tethers - Bring Down Debris or Boost Spacecraft and Non-conductive Tethers - Artificial Gravity in Orbit.)
Here are some comparative figures on deorbit times for satellites:
TUI has a promising histoy of development and funding. Started by Dr. Robert P. Hoyt and Dr. Robert L. Forward in 1994, TUI has won almost $1.5 million in grants from NASA in the past year; TUI also won a $230,000 DARPA seedling grant for space tether technologies in June of this year. This past September, they conducted successful zero-g tests in microgravity.
(This Science Fiction in the News story used with permission from Technovelgy.com - where science meets fiction.)
Stay up to date on the latest science news by signing up for our Essentials newsletter.
Bill Christensen catalogues the inventions, technology and ideas of science fiction writers at his website, Technovelgy. He is a contributor to Live Science.