Video Gamers Hooked for Life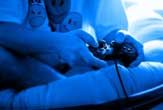 Video gamers are gamers for life, analysts say. And that's no surprise to the industry that peddles the games and the hardware, which grew last year as the rest of the economy went south.
But health experts are worried that the deepening love affair some gamers have with their consoles may lead to addiction.
Consumer spending on video game hardware, software and accessories rose by 19 percent in 2008 over the previous year to $22.9 billion, according to the report released this week by the Entertainment Merchants Association.
New game console hardware sales increased by 11 percent, despite no price drops from Nintendo or Sony, two of the three major console manufacturers. Microsoft dropped the price of each version of their Xbox 360 console just prior to the holiday 2008 season.
There are signs of a slowdown, however, including a dip in sales during June, also reported this week. And yesterday, Nintendo announced that sales of its popular Wii consoles fell by 57 percent in the latest quarter -- the first drop since 2006, according to news reports. Still, industry analysts expect overall industry profits to rebound with a slew of highly anticipated titles scheduled for release in the second half of the year.
"Our data also shows that the number of video gamers is broadening across many demographics, meaning as people get older they keep playing because they are now playing video games with their kids or getting fit with the Nintendo Wii," says George Van Horn, a senior analyst at IBISworld.
One factor behind the rise: The average console game typically provides between 5 and 25 hours of playtime. When that game is completed, gamers look to a new game, often without replaying the old ones.
"Once a person becomes a video gamer, he or she will remain a video gamer indefinitely, rendering the industry essentially turnover-proof," Van Horn said.
Meanwhile, the notion that video gaming can become addictive has remained controversial.
A study published in the May issue of the journal Psychological Science found that nearly 1 in 10 youths who play video games behaved in ways that were similar to other addictive disorders, such as compulsive gambling. These behaviors include skipping chores, lying to parents and even stealing money to support their gaming habits.
Excessive gaming has become a particularly severe problem in Asian countries, where a number of gaming-related deaths have been reported. In 2005, a 28-year old South Korean man died of exhaustion after playing computer games at an Internet café non-stop for close to 50 hours. A state survey released by the South Korean government revealed that an estimated 2.4 percent of the population aged 9 to 39 may be addicted to gaming.
Still, the American Psychiatric Association (APA) has yet to recognize those who play games excessively as having a disorder, though some experts expect that to change.
"With these gamers, there's almost always some other underlying issue such as depression, anxiety or some form of social disorder," says Jerald Block, a psychiatrist at Oregon Health & Sciences University and an APA advisor. "But if the game playing poses a barrier to treating any of these other issues, it would have to be addressed separately as a pathology."
Block is currently lobbying the APA to include pathological video game playing in the next edition of the Diagnostic and Statistical Manual of Mental Disorders, due out in 2012.
POLL: Are Video Games Addictive?
Lucas Siegel writes for Newsarama and Tuan C. Nguyen writes for LiveScience.
Stay up to date on the latest science news by signing up for our Essentials newsletter.