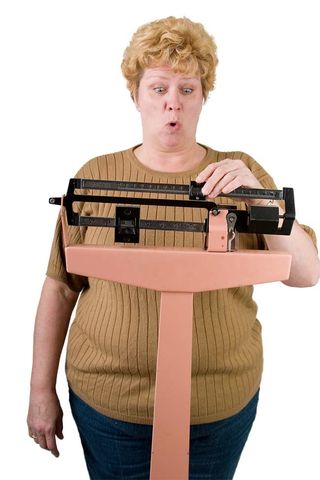 (Image credit: dreamstime.com)
Obese men reported better sexual function after losing lots of weight in a new study, one of several to show the side benefits of slimming down.
The research involved 97 men with an average age of 48, all of whom were "morbidly obese." The conclusions are based on the patients' own reporting of sexual function before and again several months after gastric bypass surgery that allowed them to shed significant poundage.
"We estimate that a man who is morbidly obese has the same degree of sexual dysfunction as a non-obese man about 20 years older," the researchers conclude.
The findings were published in December in the Journal of the American College of Surgeons.
While the results might make gastric bypass surgery seem attractive, the procedure is not without complications and often disappointing results. Experts suggest it only for the desperate who've had no luck cutting pounds through better diet and exercise. Risks range from vomiting to anemia, diarrhea and dizziness to death by respiratory failure or blood clots. Further, a patient's system post-surgery will not absorb nutrients as effectively as it should, according to the National Institutes of Health.
At least the sex might be better.
However, the surgery works only if the patient makes wholesale changes to diet and lifestyle. "Without changing your lifestyle, the surgery will not be a success," the NIH states.
A smarter strategy for most people would be exercise and good nutrition.
In a 2006 study reported in the Journal of Urology, obese men who did little exercise were at 2.5 times greater risk for erectile dysfunction (ED) — certainly a showstopper behind closed doors — compared with men who were not overweight and averaged 30 minutes of vigorous exercise a day.
Other research has shown that erectile dysfunction is "not a natural sign of aging," the NIH states. Rather, it indicates poor health. "It [ED] may mean your blood vessels are clogged. It may mean you have nerve damage from diabetes," according to the NIH.
Men as young as 20 report erection problems attributed to obesity or inactivity, one study found. Smoking has also been linked to ED.
The overall emerging point: Sex need not be a downhill slide if one can stay healthy and exercise into middle age. A survey reported in BJU International, the British journal of urology, showed that men in their 50s enjoy sex almost as much as those in their 20s.
Robert Roy Britt is the Editorial Director of Imaginova. In this column, The Water Cooler, he takes a daily look at what people are talking about in the world of science and beyond.
Stay up to date on the latest science news by signing up for our Essentials newsletter.
Robert is an independent health and science journalist and writer based in Phoenix, Arizona. He is a former editor-in-chief of Live Science with over 20 years of experience as a reporter and editor. He has worked on websites such as Space.com and Tom's Guide, and is a contributor on Medium, covering how we age and how to optimize the mind and body through time. He has a journalism degree from Humboldt State University in California.