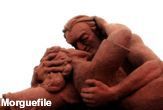 Despite weakened sex drives and flagging erections, men in their 50s enjoy sex almost as much as those in their 20s.
The 30s seem to be a time of disappointment.
Researchers in Norway surveyed 1,185 men aged between 20 and 79 about various aspects of their sex lives, including drive, erections and ejaculations. The men were asked to rate their satisfaction with each aspect on a scale of zero to four, with four representing good sexual function and no problems.
The average scores for men in their …
20s: 2.79
"The results showed a very strong correlation between men getting older and reduced sexual functioning, but not between age and sexual satisfaction, said study team member Sophie Fossa from the Rikshospitalet-Radiumhospitalet Trust in Oslo, Norway.
Eighty-six percent of the men surveyed were married or in a sexual relationship and 57 percent had been sexually active in the last 30 days.
As expected, the survey found that the ability to maintain an erection and ejaculate declined with age. Satisfaction with erections for the entire group of men averaged 2.83, with the high score of 3.63 going to men in their twenties and the low score of 1.60 going to men in their seventies. Men in their twenties reported an overall score of 3.85 for their ability to ejaculate, while men in their seventies averaged only 2.32.
After the age of 59, overall satisfaction with sex fell significantly to 2.46 for men in their sixties and 2.14 for those in their seventies.
The finding was detailed in the February issue of the journal BJU International, the British journal of urology.
Stay up to date on the latest science news by signing up for our Essentials newsletter.