Buried Babies Suggest Prehistoric Compassion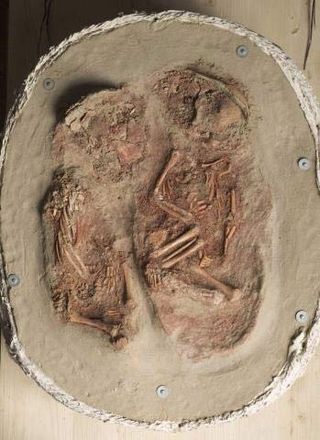 Infants may have been considered equal members of prehistoric society, according to an analysis of burial pits found in Austria.
Two separate pits, one containing the remains of two infants [image] and the other of a single baby [image], were discovered at the same Stone Age camp of Krems-Wachtberg in Lower Austria. Both graves were decorated with beads and covered in red ochre, a pigment commonly used by prehistoric peoples as a grave offering when they buried adults.
Using radiocarbon dating, archaeologists from the Prehistoric Commission of the Austrian Academy of Sciences put the remains at about 27,000 years old.
"Nothing comparable to these burials of such young Upper Paleolithic individuals has been found before," study co-author Christine Neugebauer-Maresch wrote in a recent edition of the journal Nature.
The discovery could challenge the long-held belief that—since child burials seem to be so rare—infants in this period were treated with a degree of indifference, the researchers said.
Rare birth of twins?
Archaeologists first found two skeletons entombed together in a pit protected by the scapula of a woolly mammoth that had been placed on top, while excavating at Krems in 2005.
"Equal age at death, which is supported by equal measurements of long bones, and that the babies had been buried together contemporaneously, suggests that they are twins," Neugebauer-Maresch said. "The birth of twins would have been a rare and therefore special event in a hunter-gatherer society of the ice age, which could be an explanation for the ritual burial activities."
But the recent discovery of the third infant grave also adorned with red ochre and jewelry suggests that the special treatment extended to many or all babies and not just twins, she said.
Probably no foul play
Further testing on the skeletons will try to determine how the infants died, said Neugebauer-Maresch, but it can't be performed until the bones are fully excavated.
She denied that the twin anomaly may have scared the hunter-gatherers into performing some kind of sacrifice ritual, however.
"We prefer natural circumstances, because there is just now no evidence for a ritual killing," she told LiveScience.
Stay up to date on the latest science news by signing up for our Essentials newsletter.
Heather Whipps writes about history, anthropology and health for Live Science. She received her Diploma of College Studies in Social Sciences from John Abbott College and a Bachelor of Arts in Anthropology from McGill University, both in Quebec. She has hiked with mountain gorillas in Rwanda, and is an avid athlete and watcher of sports, particularly her favorite ice hockey team, the Montreal Canadiens. Oh yeah, she hates papaya.