New Sphere of Virtual Reality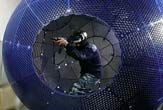 VirtuSphere provides a mechnical basis for truly immersive virtual reality environments, permitting the user to move about in virtual space by simply walking.
The device consists of a large hollow sphere which is mounted on a specially designed platform that allows the sphere to rotate freely as the user walks in any direction. (Note that the open hatch in the picture above is closed during use.) The user wears a head-mounted display, which provides the virtual environment. Sensors under the sphere provide subject speed and direction to the computer running the simulation. Users can even ineract with objects in virtual space using a special manipulator.
Many applications for the VirtuSphere are foreseen:
Military, Law Enforcement, Dangerous Occupations training, simulations
Video/LAN arcades
Health and exercise, professional athlete training, fitness clubs
Business and personal communications
Education
Virtual travel and tourism
Virtual museum exhibits
Entertainment at events
Home gaming and exercise
The ability to move physically and thereby control the simulation is one of the enabling technologies behind such science fictional devices as the Star Trek holodeck. The holodeck is a virtual environment that provides infinitely varied participatory, interactive entertainment in a very small space. On Federation starships, stressed crewmembers need to have some sort of outlet for exercise and entertainment.
Find out more about several similar technologies; read about the Holo-Dek: A Unique Real-World Virtual Venue and CirculaFloor - Smart Tile Holodeck?. Also, find out more at the VirtuSphere website.
Thanks to an anonymous reader for contributing the tip on this story.
(This Science Fiction in the News story used with permission from Technovelgy.com - where science meets fiction.)
Stay up to date on the latest science news by signing up for our Essentials newsletter.
Bill Christensen catalogues the inventions, technology and ideas of science fiction writers at his website, Technovelgy. He is a contributor to Live Science.