Wild Weather in Art and Fiction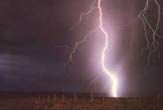 In the aftermath of HurricaneKatrina, many of us are wishing that we had some sort of control over the weather. Science fiction writer John Varley even thought about how we might become weather artists in his 1976 novel The Phantom of Kansas. Remarkably, there are real weather artists who try to make what beauty they can from nature's worst storms.
The novel is set on Earth's Moon; enormous interior caverns are dug to create vast lunar disneylands, spaces in which Earthlike environments are simulated:
These caverns were big enough to have their own weather, and they did. People who programmed the weather started out with nice days, but eventually started tinkering until the storms and sunsets were good enough to be able to charge admission. One of the best artistic creations was called Cyclone:
In the mid-nineteen seventies, artist Walter de Maria created The Lightning Field near Quemado, New Mexico. It consisted of 400 stainless steel poles averaging just over twenty feet in height. The overall dimensions were 5,280 x 3,300 feet.
(From The Lightning Field)
Writers sometimes say you should write what you know, advice Varley took to heart with his story. He had a childhood encounter with Hurricane Andrew in Port Arthur, Texas. A category 4 storm, it killed hundreds of people in nearby Louisiana.
The earliest science fiction reference I know about for control of the weather is in John Jacob Astor's 1894 novel A Journey in Other Worlds - people use aeriducts to make rain at will; complete control over all weather is also foreseen. Other more modern references include the weather integrators found in Robert Heinlein's 1940 novel Methuselah's Children and the regular showers in the lunar habitats from Arthur C. Clarke's 1955 novel Earthlight. Human beings have, of course, been trying to figure out how to manipulate the weather since the dawn of recorded history.
Thanks to Blue Monkey for contributing the tips on this story.
(This Science Fiction in the News story used with permission from Technovelgy.com - where science meets fiction.)
Stay up to date on the latest science news by signing up for our Essentials newsletter.
Bill Christensen catalogues the inventions, technology and ideas of science fiction writers at his website, Technovelgy. He is a contributor to Live Science.