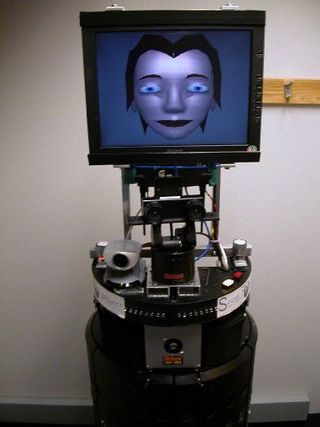 (Image credit: Carnegie Mellon University)
We have robotic vacuum cleaners, so it's probably only a matter of time before they are picking up garbage, acting as hotel concierge, taking wedding pictures, and generally taking over the labor market.
But will these mechanical employees learn to be polite?
Robotic etiquette was on display at the American Association for Artificial Intelligence meeting this July in San Jose, California, where robots competed against each other and dealt amicably with human life forms.
Around 20 robots participated in various tasks during the conference. The Search and Rescue Competition involved a simulated fallen structure, in which robots tried to identify as many of the victims as possible. Other events required robots to perform normal conference duties.
A group led by Carnegie Mellon University enrolled their robot Grace in the Open Interaction Task. This required that Grace work at an information booth where people could ask things like "Where can I get something to eat?" Through her speech synthesizer, Grace would query the visitor about the types of food they like and then give possible restaurant suggestions.
On a flat-panel display, her animated face would make expressions appropriate to the conversation.
Another entry, Lewis - the robot photographer, was the work of Bill Smart from Washington University and his team. Lewis maneuvered through the crowds at the conference, recording the event with pictures.
Interestingly, Lewis' camera doesn't usually require a flash, but "people were annoyed when they didn't know when the robot had taken the picture," Smart said. So his team set Lewis' flash to go off every time, just to satisfy the pitiful humans.
Offering these types of social cues is a central challenge in robotic development, Smart explained.
"If you are sitting in front of a computer, all you want it to do is tell you when it is done with the task you gave it," he said. "But a robot inhabits the same space as you."
This space sharing requires that the robot show signs of intelligence - like deliberately turning its camera to establish "eye contact" - otherwise it comes off as intrusive.
Or worse - scary. Smart has found that many non-technical folks are suspicious of robots. He speculates that some of them think "the robots are coming to kill us all." Kids especially seem to be afraid of the 350-pound picture-snapping Lewis.
Smart is glad to have these meetings that get his robot out of the lab where it is always surrounded by sympathetic graduate students.
"We need to study how best to interact with a general public that doesn't know how a robot works," Smart said.
Smart, who was chair of this year's Robot Competition and Exhibition, said that robots are getting better at what they do. But he admits that there are not a lot of "gee whiz" moments.
"Progress tends to be incremental," he said.
The hardest task for the robots is to interpret the information from their sensors. They usually have to rely on low-resolution images to determine what's in their surroundings.
And as far as voice recognition, Smart says that most engineers avoid using it because it is not robust enough to deal with background noise and the different stresses in people's voices. No one wants to risk having a robot with a hearing problem.
In the world of robotics, Smart said, "Failure is looked upon very badly."
One can already imagine the Hollywood storyline: self-conscious robots lash out against over-critical humanoids.
Stay up to date on the latest science news by signing up for our Essentials newsletter.
Michael Schirber began writing for LiveScience in 2004 when both he and the site were just getting started. He's covered a wide range of topics for LiveScience from the origin of life to the physics of Nascar driving, and he authored a long series of articles about environmental technology. Over the years, he has also written for Science, Physics World, andNew Scientist. More details on his website.