Doubt Cast on Green Tea as Breast Cancer Shield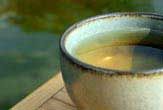 Drinking green tea may not protect against breast cancer after all, a new study suggests.
Middle-age and older women who drank 10 or more cups of green tea a day didn't have a lower breast cancer risk than women who drink half a cup or less a week, said study researcher Dr. Motoki Iwasaki, a cancer epidemiologist at the National Cancer Center in Japan.
"Our findings suggest that green tea intake, within a usual drinking habit, is unlikely to reduce the risk of breast cancer," Iwasaki told MyHealthNewsDaily.
Previous work has suggested green tea protects against breast cancer, but a number of studies have found no such link, Iwasaki said.
The new study was published Oct. 27 in the journal Breast Cancer Research.
Female follow-up
Iwasaki surveyed more than 54,000 Japanese women, ages 40 to 69, about their tea-drinking habits at the beginning of his study, and again five years later.
The researchers found 581 women had developed breast cancer about 14 years after the study's start.
There was no difference in the number of cancer cases among the women, regardless of their level of tea consumption — even between the women who drank more than 10 cups a day and those who drank half a cup or less a week.
Conflicting evidence
The new finding adds to a mixed bag of research on green tea and cancer.
Two large studies — a 2001 study of 38,000 Japanese people in the journal Cancer Causes & Control and a 2004 study of 35,000 Japanese women in the British Journal of Cancer — found green tea did not affect cancer risk.
But a 2003 report in the International Journal of Cancer found a decreased risk of breast cancer among Asian women who drank green tea regularly, compared with those who drank it less than once a month. And a 2009 study in the Journal of Nutrition found, in 7,000 women ages 20 to 74, a slightly lower risk of breast cancer in tea drinkers than in non-tea drinkers.
The new study's strength comes from its survey of a wide range in the level of tea consumption, researchers said. And because the questions about tea drinking were asked at the study's start, the risk of incorrect recall on tea-drinking habits was reduced.
The reason for the contradictory results could be that green tea protects against breast cancer only in women of a certain age, said Dr. Qi Dai, a cancer epidemiologist at the Vanderbilt-Ingram Cancer Center in Tennessee and researcher of the 2009 Journal of Nutrition study.
It's "possible that green tea drinking is only related [to] a reduced risk of breast cancer among subsets of women with certain genetic makeup," Dai said.
It's possible, too, that some studies have inherent flaws that would then lead to inconsistency in results, Iwasaki said. For example, people may not have accurately recalled their tea-drinking habits, and researchers may not have used the same kinds of green tea.
But the conflicting evidence doesn't mean people should stop drinking it, Iwasaki said.
There are many types of green tea, but all contain antioxidants called polyphenols that neutralize toxic free radicals in the body. Studies have linked the tea to a decreased risk of other types of cancers, including bladder, ovarian, stomach and colorectal cancers, according to the University of Maryland Medical Center.
Next, researchers hope to see if variations in diet and genetics affect green tea's effectiveness as a protector against breast cancer.
"This might help to identify a group of women who receive the benefits of green tea intake in relation to breast cancer risk," Iwasaki said.
Cancer Fighting Foods: Fact and Fiction
This article was provided by MyHealthNewsDaily, a sister site to LiveScience.
Stay up to date on the latest science news by signing up for our Essentials newsletter.
Amanda Chan was a staff writer for Live Science Health. She holds a bachelor's degree in journalism and mass communication from the Walter Cronkite School of Journalism and Mass Communication at Arizona State University, and a master's degree in journalism from Columbia University.