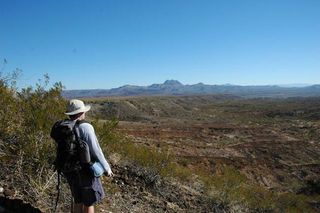 (Image credit: Dr. Gordon Moore (Arizona State University), November 2007)
This ScienceLives article was provided to LiveScience in partnership with the National Science Foundation.
Volcanic, moon, punk… Jeremy Boyce likes rock in many different forms. He has spent his life working on ways to combine his passion for geology with his creative problem solving skills. To help determine what factors could help us predict when a volcano might erupt, Boyce has studied the mineral apatite as it relates to the magmatic processes of volcanoes in a recent project funded by NSF through the American Recovery and Reinvestment Act (ARRA). Interestingly, lunar rock also contains apatite. Recently, Boyce was able to analyze the apatite in moon rocks collected by the Apollo 14 astronauts. He is co-author of a study based on those findings and published in the journal Nature that describes surprising new evidence that the moon has more water than we thought.
Name: Jeremy W. Boyce Age: 36 Institution: Caltech Field of Study: Geochemistry
What inspired you to choose this field of study? People laugh when I say this, but I've known I wanted to be a geoscientist since I was in the third grade. I think this probably comes from spending many weekends camping and hiking with my parents out in the desert east of my hometown of San Diego.
What is the best piece of advice you ever received? When I went off to college, I foolishly chose a major based on how much money I would make when I graduated. But then I just complained that I couldn't fit any "fun classes" – like geology – into my otherwise boring schedule. A childhood friend pointed out that it is easy to take lots of geology classes if one chooses geology as a major. That totally obvious statement was the nudge I needed to follow my heart back into Earth science.
What was your first scientific experiment as a child? At age five, on vacation with my grandparents, we drove past the Inyo mountains, and I drew my first geologic map using a "magic slate" drawing pad. I've driven past the same mountains many times since, and I still think they are amazing, though I've given up trying to map them.
What is your favorite thing about being a scientist or researcher? Interacting with other scientists – my colleagues and friends, from all over the world – is what makes being a geoscientist great. As for the job itself, I get paid to brainstorm, solve problems and try new things in the lab, which makes every day interesting and different.
What is the most important characteristic a scientist must demonstrate in order to be an effective scientist? I've always argued that it is more important to be clever than anything else. It's not just enough to be smart, it takes a combination of intelligence and creativity in order to think up exciting new scientific problems, as well as new ways of solving them.
What are the societal benefits of your research? I like to play "Six Degrees of Geochemistry" – just like "Six Degrees of Kevin Bacon" – with people who ask that question, to teach them why geochemistry is important. For example, your cell phone (1) probably has a battery that requires rare metals such as lithium, and (2) lithium comes from mining, and (3) good areas to mine are identified by measuring lithium in rocks, and (4) lithium is measured using techniques developed by geochemists!
Who has had the most influence on your thinking as a researcher? My scientific training started with my high school chemistry teacher, Mr. Blevins. He taught me two fundamental rules that many professional scientists often forget: 1) Always think about the sources of error in your experiments, and 2) Always "think mole," or in other words, don't forget to convert to moles before making calculations. Those rules show up in every single paper I have ever published, and I think he'd be proud that I took those lessons to heart.
What about your field or being a scientist do you think would surprise people the most? My wife and I are both scientists, and people are always surprised by the sacrifices we make in order to work at universities. The biggest sacrifice is not getting to choose where you want to live, because so few academic jobs open up each year. For some couples this means living apart, or taking less-prestigious positions, often in parts of the world far from family and friends. Oh, and summer "break" is often the busiest time of the year, not the vacation people think it is!
If you could only rescue one thing from your burning office or lab, what would it be? At the risk of injury, I'd rescue two things: my back-up hard drive and my stack of lab notebooks. And if the fire department didn't stop me, I'd probably go back for an arm-load of samples.
What music do you play most often in your lab or car? To deal with the stress of being a scientist, I mostly listen to punk rock such as the Swingin' Utters, Youth Brigade, the Dropkick Murphys and Flogging Molly. I'm also a big fan of the band Bad Religion, in part because their lead singer (Greg Graffin) is also a scientist with a PhD.
Editor's Note: This research was supported by the National Science Foundation (NSF), the federal agency charged with funding basic research and education across all fields of science and engineering. Any opinions, findings, and conclusions or recommendations expressed in this material are those of the author and do not necessarily reflect the views of the National Science Foundation. See the ScienceLives archive.
Stay up to date on the latest science news by signing up for our Essentials newsletter.