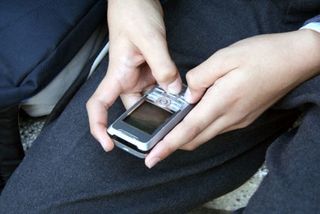 (Image credit: stockxpert)
Millions of dollars in American aid relief for the Haiti earthquake disaster are coming from people donating money on their cell phones using text messages.
Text-message donations, also called SMS donations, are becoming increasing popular with charities because of their convenience for donors and the ability to spread the word quickly via social media sites like Twitter and Facebook.
The Haiti earthquake marks a watershed moment for the high-tech form of giving, which has been around for several years but which has become increasingly popular of late.
The American Red Cross has raised $3 million in Haiti aid relief through $10 text-message donations as of this morning, Wendy Harman, the charity's social media manager, told LiveScience.
"It certainly has shattered anything that we have done before in the mobile giving space," said Harman.
For comparison, text-message donations to the American Red Cross for aid relief following Hurricane Ike and Hurricane Gustav in 2008 only amounted to $190,000, Harman said.
Officials caution that people should watch for potential fraud, however, and be sure to donate to known and reputable charities only.
How SMS donation works
Donors give by using their cell phones to text a unique keyword —such as HOPE or MEAL — to a 5- or 6-digit short code phone number. The wireless carriers add the donation, typically $5 or $10, to the donor's monthly bill and pass 100 percent of the contribution along to the charity.
The transaction is usually done through the Mobile Giving Foundation (MGF), a nonprofit group that that serves as an intermediary between charities, wireless carriers and the mobile application service providers who create the mobile giving campaigns.
There are an estimated 280 million American wireless users. About 400 charities have added mobile giving to their marketing mix, including the United Way, the Red Cross, UNICEF, Share Our Strength and the Salvation Army, said MFG president and CEO Jim Manis.
More charities joining in
The American Red Cross has been accepting text-message donations since Hurricane Katrina in 2005, but for many charities that are only now tapping into mobile giving, the Haiti earthquake is their first real test of the donation method during a catastrophe.
"For us, it's a very new thing. We just started [text-message donations] about a month ago, prior to the holidays," said Melissa Winkler, a spokesperson for International Rescue Committee (IRC), a non-profit organization that deploys aid workers to areas of crisis around the world.
The response from donors to IRC's December test run with text-message donations was "better than expected," Winkler said, so the organization decided it would use it again after the decision was made to send an emergency team to Haiti.
Winkler thinks part of the appeal of text-message donations is its immediacy. Interested donors don't have to call a phone number or visit a Web site to help out.
"It's people reacting at that moment to something that upsets them or concerns them," Winkler said. "Almost everyone in the Western world can afford a $5 donation."
Other charities are also reporting success with text-message donations. The Miami-based Give-on-the-Go campaign, started by musician and Haiti-native Wyclef Jean, has raised over $400,000 using the method so far.
Beware of scams
SMS donations are win-win situations for donors and nonprofits alike. It's convenient for donors, and because the way SMS donations are set up, they don't have to reveal their credit card numbers or other personal information.
Meanwhile, the charities receive the full donation, minus the modest monthly charge of their Application Service Providers, or ASP's, that create the mobile giving campaigns. SMS donations also opens up new territory for soliciting charitable contributions, especially amongst younger donors.
"We recognize that the huge majority of people in the United States are using cell phones and mobile applications," Harman of the American Red Cross said. "It's the wave of the future."
Mobile giving for the Haiti earthquake disaster has also been helped by social media sites such as Facebook and Twitter, where users can quickly broadcast the news that a charity is accepting text-message donations.
"We were able to get out very quickly with this very simple message that you can text this $10 donation, and I think there's been an enormous outpouring of support for the people of Haiti right now," Harman said.
Organizations accepting SMS donations:
American Red Cross: text "HAITI" to 90999 to donate $10
International Rescue Committee: text "HAITI" to 25383 to donate $5
Give on The Go: text "YELE" to 501501 to donate $5
Salvation Army in Canada: text "HAITI" to 45678 to donate $5
As with any form of charitable giving, however, Harman urgers people to beware of scams and to be cautious when donating using text messaging.
"We just want everybody, no matter your charity of choice, to do your research and make sure that the charity has officially sanctioned the donation that you're giving," she said.
Stay up to date on the latest science news by signing up for our Essentials newsletter.