Daily Text Messages Exceed 4 Billion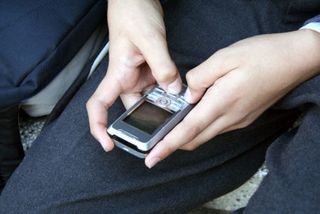 (Image credit: stockxpert)
One thing that hasn't faded during the Great Recession is our need to talk to each other — via cell phones. But increasingly that chatter is in the form of text messages.
The latest figures from the cell phone industry's trade association show that, during 2009, most indicators were pointing up, including the number of U.S. subscribers, the average monthly bills, data traffic, and even the number of cell towers.
Text messaging soared. During the first half of 2009, users sent about 740 billion text messages. That's about 4.1 billion per day, or nearly 17 texts per day by everyone with a data-capable phone.
That total was about double the number seen in the first half of 2008, when "only" 386 billion text messages were dispatched.
Data rules
The figures gathered by the industry group CTIA (the Wireless Association, formerly known as the Cellular Telephone Industries Association) cover about 96 percent of the U.S. cell phone industry. They show that in 2009 the number of subscribers rose about 5 percent over 2008, to 276.6 million.
About 246 million — or 89 percent — of those users had devices with some data capability, including more than 40 million who were wielding smartphones or wireless PDAs, and more than 10 million who were lugging laptops or netbooks with wireless connections.
CTIA's data from the first half of 2009 show usage rising at an annual rate of 3 percent, reaching 1.1 trillion wireless minutes during the six-month period.
Talking down
As texting rates rise, the average call length has been falling dramatically.
The figure had been fluttering around the 3-minute mark for the latter half of the decade, peaking at 3.13 minutes in 2007, when Americans were at their most talkative. It then slumped by nearly a quarter to 2.43 minutes in 2008, and then by nearly as much again in 2009, to 2.03 minutes.
In fact, the 2009 average length is the lowest recorded since CTIA began tracking the average.
Bottom line
Through it all, the carriers are making more revenue. The average user's monthly bill rose 2 percent in 2008, to $49.57, although that was still below the pre-1995 high-water mark of $49.94. (Before 1995, fewer than 20 million people had cell phones and monthly bills averaged well over $50.)
Total cellular system annual revenue was up about 5 percent, to a tidy $151.2 billion. Even the number of cell towers was up, rising about 12 percent to 245,912 around the nation.
On the flip side, for the first time in living memory the number of direct-service employees in the cellular industry fell significantly, falling to 261,453 after shedding about 6,000 people.
This article was provided by TopTenREVIEWS.
Stay up to date on the latest science news by signing up for our Essentials newsletter.