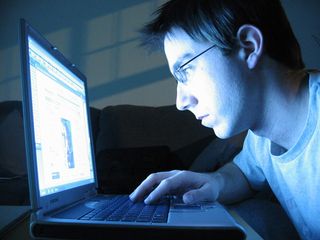 The Consumer Electronics Show, where manufacturers come to show off their latest products, starts Jan. 7. It's a good place to identify tech trends for the coming year. The organization behind it, the Consumer Electronics Association, gave a brief look at tech trends we can expect to see at CES and, by extension, the rest of the year. Here's our interpretation, digested to filter out hype and jargon, of what to expect in technology for 2010.
3-D and Connected TVs
You may have noticed a bunch of movies being advertised as 3-D lately. It's a huge push in the TV and film industries (mostly to make you spend more money on entertainment, but that's a discussion for a different time), and you can expect a big push to bring 3-D into the home. That means both 3-D-capable screens and content. We're not all that excited about 3-D, but there were already several companies showcasing home 3-D products at last years CES, and that number will certainly increase this year.
Another trend that started to form last year but will be a main focus this year is connected TVs. Whether you like it or not, the Internet is a part of life, and that means it's even coming to your TV. Almost every manufacturer is already working on (and some have already shipped) TVs that connect to the Internet and bring you Web-powered widgets and apps for your TV. Weather reports, YouTube vids, Flickr, email, just about everything you do on your computer will be brought to the TV (or they'll try, at least).
Content Packages and Subscriptions
In an effort to combat piracy and increase revenue on every form of content (everything from news and TV shows to music, books and movies), companies will band together to create partnerships and offer packaged deals on content. Basically, a monthly subscription fee will get you content from certain providers, but not all of them. The big question is how companies will manage subscriptions across multiple screens (TV, computer, cell phone) since more and more people are watching content on many different devices.
Tablets Are Coming, or at Least Something Bigger than Phones but Smaller than Netbooks
There are phones coming out with screens up to 4 inches, and netbooks and laptops range from 10 to 17 inches (give or take), but there's nothing currently occupying the 5 to 9 inch range. All the talk we've been hearing about media tablets from Apple and a host of other manufacturers lately is evidence that companies will be trying to fill this niche in the screen ecosystem.
Tablets, sometimes called MIDs (mobile Internet device), provide a way to get Internet content, movies and music on something more portable than a laptop, but that has a bigger screen than a phone. eBook readers have started to fill this niche for the publishing industry, but there is a lot of room for expansion. No company has officially announced a tablet, but several are expected to unveil one at CES. The CEA also expects to see mashups and new form factors, like devices with an e-ink screen (for e-readers) and an LCD screen (for videos and surfing the Web) combined.
Netbooks will still be around. In fact, there will be even more of them because they have sold so well. More and more manufacturers are making them, and Intel is expected to release a new processor that will make them more powerful, so you can expect to see a bunch of new models at CES.
Apps Will Rule
As Apple has shown so well with iPhone and iPod Touch apps, it's not about the device so much as what you can get on the device. That's why every manufacturer is scrambling to get apps and other software coded for their devices. People want to be able to pick and choose functionality on their device, and apps allow them to personalize their device. That's why you'll see more emphasis on who has the better apps or the biggest collection of apps as a deciding factor for device purchases. And this extends beyond phones. Even TVs, laptops and the as-yet-unconfirmed flood of tablets will live or die by their apps.
Green Is the New Black
This isn't necessarily a new trend, but it will be even more prevalent this year than last. Being "green" (environmentally friendly) is becoming more and more trendy, and as a result more and more manufacturers are using it as a selling point. Maybe the device uses less electricity, maybe the manufacturing process cuts carbon emissions, maybe it just has Al Gore's stamp of approval; whatever it takes, companies will try to make you think you're being environmentally responsible by spending more money on their products.
So now that you know what's in store for the coming year, how should this information affect your tech life? Well, for starters, don't make any major device purchases for several months! There will be great deals for the holidays, but if you want the latest functionality, you should wait for the major announcements to happen in January and then decide if the products-to-come are what you want.
And also be prepared to be more connected. Whether you like it or not, everything is connected now, and so are you.
This article was provided by TopTenREVIEWS.
Stay up to date on the latest science news by signing up for our Essentials newsletter.