Airports Are Paradise ... for Pets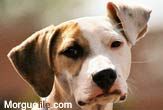 Airports nationwide now offer pet-friendly services, ranging from high-end boarding kennels with bone-shaped pools to private dog parks, as a convenience for busy canine and feline travelers and their humans.
One example is a boarding and day-care business currently under construction near Bush Intercontinental Airport in Houston. Pet Paradise will be staffed 24 hours a day, seven days a week, so travelers can drop off and pick up their pets with ease.
The 15,000-square-foot resort is slated to open in March and boasts private suites with patios, a bone-shaped pool and artificial turf yard where canines can chase Frisbees and tennis balls to their heart's content.
"What we're providing is not only a fun time for the animals but peace of mind for their owners," said Fred Goldsmith, CEO of Pet Paradise, headquartered in Jacksonville, Fla.
Web cams allow owners to peek in on their pet, day or night.
Expanding options
Pet Paradise also has airport locations in Jacksonville, Fla., and New Orleans.
Goldsmith is aggressively expanding throughout the southern United States and hopes to open several more upscale kennels near airports in Charlotte, North Carolina, Atlanta, Georgia and Fort Lauderdale.
For travelers who'd rather take their pooch with them, a handful of airports have built special outdoor areas where four-legged passengers can stretch their paws.
The most impressive is Arizona's Phoenix Sky Harbor International Airport with two lighted dog parks located just steps from its terminals.
The "bone yard" and "paw pad" there are enclosed with decorative wrought iron fencing, providing dogs with a secure potty area. Water faucets with buckets are available as well as disposal bags for owners to clean up after their pets.
Big demand More than 2 million animals are transported by airlines each year, according to the Department of Transportation.
Boston's Logan International Airport started catering to canine jet setters and their owners earlier this year by stocking stores with water bowls, pup cakes, doggie T-shirts and collars.
Brochures with pet travel tips are located throughout the terminal.
For a growing number of airports, though, boarding facilities are being sought to boost their bottom line and fill a void in services offered to travelers.
The Metropolitan Airports Commission (MAC) is now accepting proposals for a 24-hour boarding, day care and grooming facility at the Minneapolis-St. Paul International Airport. MAC spokesman Patrick Hogan said a decision is expected in February.
The chosen company will rent a 12,000-square-foot building on airport grounds for about $48,000 annually and pay MAC a portion of its profits.
Hogan said a number of different businesses were considered before opting on a boarding facility.
"We wanted to use [the space] for some service that would provide an added benefit to people who fly through this airport," he said. "And with the number of people who have pets these days, it seems there would be a considerable demand for this type of service."
Vote For Your Favorite Pet
Stay up to date on the latest science news by signing up for our Essentials newsletter.