Pet Funeral Homes Comfort Grieving Owners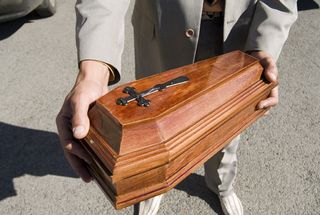 (Image credit: Dreamstime)
Funeral homes aren't just for dead people. They're for our passed-on pets too these days.
Pet Angel Memorial Center in Carmel, Indiana, helps guide grieving animal owners through what it turns out is a vast array of burial and memorial options.
The staff of five, all former clients, then carries out the owner's wishes.
Perhaps the most important service the center provides, though, is an understanding shoulder to cry on. Owner Coleen Ellis is not a trained grief counselor but said she's a trained friend in offering emotional support.
"Unfortunately, we still have a good portion of our society that looks at you out of the corner of their eye and says, 'For God's sake, it's a cat, get over it. Go get another,'" Ellis said. "People don't want to hear that."
The alternative: garbage bags
Ellis said she started the country's first pet funeral home three years ago after the death of her dog Mico, a schnauzer mix.
It was then she discovered her veterinarian, like most throughout the United States, put euthanized animals in garbage bags and stored them in a freezer for up to one week. A disposal company then picked up the bodies and brought them to a landfill, or crematory.
"Those [pets] do not deserve to be in trash bags," Ellis said. "When we go pick up babies, they are wrapped in blankets and put in caskets and treated like little people. Their body is given dignity and respect all the way through."
Ellis picks-up the bodies of deceased pets on the same day death occurs, usually within the hour.
Before opening Pet Angel Memorial Center, Ellis worked in human funeral homes for 15 years, helping guide families through the end of life process.
Her work with pets, though, is unusual. Only a handful of animal funeral homes exist, many of which Ellis said she helped get started. Early next year she plans to begin franchising the business.
Urns, caskets and keepsakes
Honoring deceased pets and people is similar in many ways. The 1,200-square-foot memorial center, located outside of Indianapolis, offers a full line of caskets, urns and memorial items.
The lowest priced package starts at $230 (for a dog up to 25 pounds) and includes pick-up, cremation and urn, as well as a keepsake paw print and tuft of fur.
About 15 funerals have been held at the center, including one attended by some 500 people for a police dog killed in the line of duty.
Most clients opt for "visitations" instead, said Ellis, where last respects are paid in the cozy chapel or family room. Friends, family and surviving pets often accompany grieving owners. About two visitations take place daily for a variety of furry and finned creatures including rabbits, goldfish, rats and lizards.
During a visitation, an urn with the pet's ashes is displayed or the body is viewed before being sent to the crematory or cemetery.
The atmosphere is different than a human funeral home, said Ellis, where people stay their distance to give the grieving family privacy. At the center, pet owners mourn together.
"Often times, if two visitations are going on, the families will share stories about their deceased loved ones," she said. "It's a very good healing experience."
Vote For Your Favorite Pet
What's the Most Popular Pet?
Video: Extraordinary Dogs
Stay up to date on the latest science news by signing up for our Essentials newsletter.