You Can Ask, Just Don't Ask Jeeves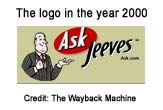 SAN FRANCISCO (AP)—After spending the last decade building its brand around a cartoon character named Jeeves, Ask.com wants everyone to forget the dainty butler and remember its long-overlooked Internet search engine as the next best thing to Google.
To make its point, Ask.com is jettisoning Jeeves as its corporate mascot on Monday and unveiling a retooled Web site that's designed to make it easier to find and use its search technology.
The makeover, which will be supported by an advertising blitz beginning in mid-March, marks the 10-year-old company's latest attempt to be taken more seriously as it tries to catch up with the Internet's top four search engines—Google Inc., Yahoo Inc., Microsoft Corp.'s MSN and Time Warner Inc.'s America Online.
Ask.com also is trying to live up to the high expectations of media tycoon Barry Diller, whose e-commerce conglomerate InterActiveCorp bought the Oakland, Calif.-based company for $2.3 billion last summer.
Diller, InterActiveCorp's chief executive and controlling shareholder, decided to dump Jeeves within a few weeks of completing the acquisition, but Ask.com is just now getting around to parting with its loyal servant.
Ousting Jeeves represents a bit of a risk because his genteel figure has been so synonymous with Ask.com, thanks to past marketing efforts that included the butler's appearance in Macy's Thanksgiving Day parade.
"If some people are upset about the butler going away, so be it,'' said Steve Berkowitz, Ask.com's chief executive. "As more people come to our site and are satisfied with the results they get, they are going to forget the butler.''
From management's perspective, Jeeves had morphed from an endearing mascot to an exasperating albatross. That's because the butler's image conjured memories of a long-bygone era when Ask.com promised to deliver simple answers to questions posed in conversational language.
The question-and-answer approach never worked like engineers envisioned, prompting Ask.com to shift directions. The company now believes its search tools are as good, if not better, than Google's—a message that Berkowitz believes would be difficult to convey as long as Jeeves stuck around.
"This is really the first time in our history that we have been able to stand up and shout about what we are doing so we can get the attention we deserve,'' Berkowitz said.
To showcase its search technology, Ask.com is displaying fewer ads and reserving the right side of its home page for a tile-like directory that can be clicked on for quicker access to its various channels and tools, including shopping, mapping, weather and currency conversion.
"It's like we have put everything we have on speed dial,'' said Jim Lanzone, Ask.com's senior vice president of search.
Besides the revamped Web page, Ask.com also is rolling out several improvements, including a new mapping feature that will provide walking directions to a desired destination in addition to the standard driving directions.
Some of Ask.com's earlier improvements helped it increase its share of the U.S. search engine market share from 5.3 percent at the end of 2004 to 6.3 percent in December, according to comScore Media Metrix, a research firm.
Despite its recent progress, Ask.com still lags a distant fifth in the battle for search engine supremacy. Through December, Google led the pack with a 40 percent U.S. market share, followed by Yahoo at 29.5 percent, MSN at 24.3 percent, AOL at 8.5 percent and then Ask.com, Media Metrix said.
Berkowitz believes Ask.com's latest changes will help boost its market share above 10 percent to surpass AOL before setting its sights on MSN and Yahoo. While catching Google probably isn't realistic, Berkowitz and Lanzone hope people begin to realize Ask.com is the only other large Web site besides Google primarily focused on search.
Although Yahoo, MSN and AOL all have been emphasizing search recently, their sites continue to offer a wide array of entertainment, information and other services aimed at keeping visitors around as long as possible.
"People have been conditioned to think that only one brand equals search,'' Lanzone said. "It's time that they realize that Ask is a serious alternative to Google.''
Stay up to date on the latest science news by signing up for our Essentials newsletter.