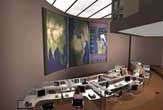 The federal government is launching a cyberspace initiative this summer that sponsors say has the potential to enhance national security, improve government collaboration and save taxpayer dollars to boot. Called vGov, it is a virtual world that will function much like a secure "Second Life" for government agencies.
"Second Life" is a virtual world where users, or "residents," can interact with each other and participate in individual and group activities online. It has nearly one million active users, including 1,400 businesses such as IBM, according to Linden Labs, the creator of the virtual world.
Launched under the aegis of the Department of Agriculture (USDA), vGov will initially serve as a digital sandbox for the USDA, the Air Force, Department of Homeland Security and the National Defense University (NDU).
USDA will use vGov to train for operating during disasters and emergencies. The Air Force will focus on medical simulations while Homeland Security plans to use the virtual space to collaborate, train and study cybersecurity operations and rehearse response scenarios. The National Defense University will create virtual communities to evaluate national and international security challenges.
Lagging behind China
China has already gotten virtual religion. Are we coming late to the party?
"There are a couple of nations that are investing in virtual worlds for their nations. And one of them is China," said Paulette Robinson, assistant dean for teaching, learning and technology at NDU's iCollege and "Chief Whirlwind" of vGov. "China is putting a lot of money into a virtual world to house their financial systems."
The virtual world ecosystem today is much like the Internet during its formative years when it was largely being supported and given structure and standards by the U.S., Robinson said. We face a similar opportunity now to take the lead in shaping how virtual worlds evolve.
"If another country takes the lead in virtual worlds then we will have to live by different rules," Robinson told TechNewsDaily.
Virtual worlds are no longer just the stuff of fantasy role playing. Computer simulation can create highly realistic, interactive 3D virtual environments that replicate the real, physical world in all aspects at a fraction of the cost of real-world training.
Participants can control their own on-screen alter egos — called avatars — and explore individually or in groups a variety of real-life situations without fear for human safety, property damage or irreversible outcomes.
Four companies have been awarded contracts by the USDA to build technology platforms for the vGov virtual world: SAIC's Olive, Three Wire and Teleplace, Avaya Government System's Web.alive and Advanced Software System's VastPark.
To date, Robinson said, $250,000 in direct costs has been awarded for virtual world software and maintenance. This does not include the cost of hardware, system administration, world development, and the cost of the procurement and its management.
Virtual worlds coming
If Washington seems to be jumping on a virtual world bandwagon, the government has plenty of company. Research firm Gartner says that by 2012 70 percent of organizations will be using virtual worlds to support internal collaboration and social interaction.
Virtual worlds change how we interact, said Robinson. IBM is probably the best example of how it changes interpersonal dynamics. "Many of their teams only meet in the virtual world; they never meet in person," she said.
And the cost savings over teleconferencing and physical meetings can be substantial. When IBM conducted its "Virtual World Conference" in "Second Life" late in 2008, the price tag was $320,000, one-fifth the cost of holding a real-world event, the company said.
Once input devices are improved to more faithfully register motion and reflect human gestures and facial expressions, Robinson predicts that virtual worlds will explode and become the new face of the Internet.
"In three to five years the Internet will be a 3-D environment," she said. "You'll enter the Internet as an avatar and move through information. It's the immersive Internet. And that's where it's going."
Stay up to date on the latest science news by signing up for our Essentials newsletter.