Pregnant Women Can Do These 2 Things to Lower Odds of a C-Section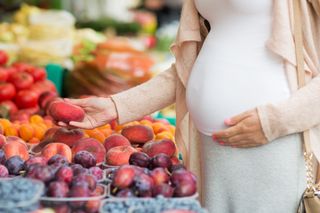 (Image credit: Syda Productions/Shutterstock)
Women may have another reason to eat healthy and exercise during pregnancy: These behaviors may lower their odds of having a cesarean section, a new meta-analysis finds.
Gaining some weight during pregnancy is healthy and indeed expected, but gaining too much weight can have negative effects on both mom and baby.
For example, gaining too much weight during pregnancy can increase the likelihood that a baby will have a high birth weight, which, in turn, can increase the baby's risk of medical issues, such as obesity and high blood pressure, during childhood. In addition, excess weight gain can put a woman at risk for a condition called preeclampsia during pregnancy. And some studies have found that excess weight gain can increase the chances of a C-section, which is riskier than a vaginal delivery. (C-sections are generally considered safe, but they are still major surgical procedures and therefore carry risks.) [The Best Ways to Lose Weight After Pregnancy]
Among the pregnant women in the new study, those who followed a healthy diet and exercised gained 0.7 kilograms (1.5 lbs.) less than the women who didn't follow these healthy lifestyle behaviors. They were also 9 percent less likely to have a C-section, according to the meta-analysis, published today (July 19) in the journal The BMJ. The study was conducted by the International Weight Management in Pregnancy Collaborative Group, a network of researchers looking at weight management interventions for pregnant women.
The findings came from the researchers' analysis of data gathered on more than 12,500 women in 36 previous studies. All of the studies had looked at the effects of diet and exercise programs during pregnancy on both mother and baby.
About 45 percent of the women in the meta-analysis participated in the study during their first pregnancy. In addition, 40 percent of the women included were obese, and another 40 percent said they had a sedentary lifestyle, the researchers noted.
The findings suggest that all women, regardless of their weight, could benefit from diet and exercise advice during pregnancy, the researchers wrote. In addition, doctors should reassure women that it's safe to exercise during pregnancy and point out that not doing so could be harmful.
One limitation of the meta-analysis was that the majority of women included (80 percent) were white. More research is needed on women of different races.
Originally published on Live Science.
Stay up to date on the latest science news by signing up for our Essentials newsletter.
Sara is a staff writer for Live Science, covering health. She grew up outside of Philadelphia and studied biology at Hamilton College in upstate New York. When she's not writing, she can be found at the library, checking out a big stack of books.