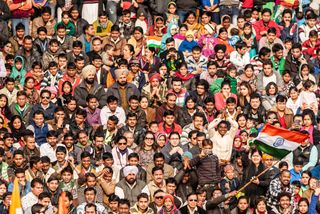 (Image credit: Shutterstock)
An influx of men from the steppe of Central Asia may have swept into India around 3,500 years ago and transformed the population.
The same mysterious people — ancient livestock herders called the Yamnaya who rode wheeled chariots and spoke a proto-Indo-European language — also moved across Europe more than 1,000 years earlier. Somehow, they left their genetic signature with most European men, but not women, earlier studies suggest.
The new data confirm a long-held but controversial theory that Sanskrit, the ancient language of Northern India, emerged from an earlier language spoken by an influx of people from Central Asia during the Bronze Age. [24 Amazing Archaeological Discoveries]
"People have been debating the arrival of the Indo-European languages in India for hundreds of years," said study co-author Martin Richards, an archaeogeneticist at the University of Huddersfield in England. "There's been a very long-running debate about whether the Indo-European languages were brought from migrations from outside, which is what most linguists would accept, or if they evolved indigenously."
Aryan invasion theory
From the earliest days of colonial rule in India, linguists like William Jones and Jakob Grimm (who co-edited "Grimm's Fairy Tales") noticed that Sanskrit shared many similarities with languages as disparate as French, English, Farsi (or Persian) and Russian. Linguists eventually arrived at the conclusion that all these languages derived from a common ancestral language, which they dubbed Indo-European.
But while North Indian languages are predominantly Indo-European, South Indian languages mostly belong to the Dravidian language family. To explain this, scholars proposed the so-called Aryan invasion theory — that a group of people from outside India swept in and brought a proto-Sanskrit language to northern India. (The name "Aryans" came from a Sanskrit word for "noble" or "honorable.") In the early 1900s, British archaeologist Mortimer Wheeler proposed that these Aryan people may have conquered, and caused the collapse of, the mysterious Indus Valley Civilization that flourished in what is now India and Pakistan.
The Aryan migration theory eventually became controversial because it was used to justify claims of superiority for different Indian subgroups; was claimed as the basis for the caste system; and in a bastardized form, was incorporated into Nazi ideology that the Aryans were the "master race."
What's more, earlier genetic data did not seem to corroborate the notion of a dramatic Aryan influx into India during the Bronze Age, according to a 2003 study published in the American Journal of Human Genetics.
Complex migration patterns
But past genetic analyses were based on either DNA from mitochondria, which is passed from mothers to daughters, or from genetic mutations found in nuclear DNA, which are inherited from both parents but can be difficult to date.
In the current study, which was reported in March in the journal BMC Evolutionary Biology, Richards and colleagues analyzed modern genetic data from mitochondrial DNA, Y-chromosome DNA — which is passed only from father to son — and nuclear DNA. By tying all these pieces of data together, the team was able to tie patterns of migration to specific points in time.
The team found evidence that people began colonizing India more than 50,000 years ago and that there were multiple waves of migration into India from the northwest over the last 20,000 years, including waves of people from Anatolia, the Caucasus and Iran between 9,000 and 5,000 years ago.
But evidence for one migration was particularly striking: The genetic makeup of the Y chromosome dramatically shifted about 4,000 to 3,800 years ago, the study found. About 17.5 percent of Indian men carry a Y-chromosome subtype, or haplogroup, known as R1, with the haplogroup more dominant in men in the north compared to the south of India.
This new finding points to an ancient group of people who inhabited the grassland between the Caspian and Black seas from about 5,000 to 2,300 years ago, known broadly as the Yamnaya people. The Yamnaya (and its later subgroup, the Andronovo culture) typically buried their dead in pit graves, drove wheeled horse chariots, herded livestock and spoke an early precursor Indo-European language. About 5,000 years ago, people from this culture almost completely transformed the genetic landscape of Europe, a 2015 Science study suggests.
The genetic signature of the Yamnaya people shows up strongly in the male lineage, but hardly at all in the female lineage, the study found.
One possibility is that a group of horse-riding warriors swept across India, murdered the men and raped or took local women as wives, but not all explanations are that martial, Richards said. For instance, it's possible that whole family units from the Yamnaya migrated to India, but that the men were either able to acquire (or started out with) higher status than local males and thus sired more children with local women, Richards said.
"It's very easy for Y-chromosome composition to change very quickly," Richards told Live Science. "Just because individual men can have a lot more children than women can."
The shift wasn't as dramatic as the genetic transformation of Europe; while up to 90 percent of European men from some countries carry a version of R1, only a minority of men from the Indian subcontinent do, Richards said.
"It's not like a complete wipeout by any means," Richards said.
Remaining questions
The study has a limitation: Because the very hot conditions in India don't preserve DNA well, the group lacks ancient DNA to prove that ancient migrants to the region carried the R1 haplogroup, said James Mallory, an archaeologist at Queen's University Belfast in Ireland, who was not involved in the study.
"They're trying to read the history of a people through its modern DNA," Mallory told Live Science. In the past, similarly well-grounded theories have been disproven once people sampled ancient skeletal remains, Mallory added.
The other problem is that there is very little archaeological evidence for a dramatic cultural transformation in India at that time, he added. The Andronovo left behind distinctive artifacts and evidence of their culture in other places, such as their pit burials and unique pottery.
But in India, "We do not really find evidence for these particular cultures," Mallory said.
On the other hand, population studies of the Irish have revealed almost 90 percent of men carry an R1 haplogroup, and yet there's also very little archaeological evidence of a cultural transformation consistent with huge population turnover, he added. So it may simply be that genetics are revealing a lost history of people in the area.
"The genetics are continually giving archaeologists surprises," Mallory said.
Originally published on Live Science.
Stay up to date on the latest science news by signing up for our Essentials newsletter.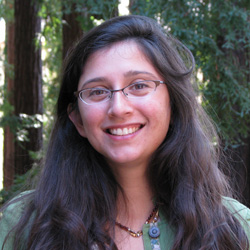 Tia is the managing editor and was previously a senior writer for Live Science. Her work has appeared in Scientific American, Wired.com and other outlets. She holds a master's degree in bioengineering from the University of Washington, a graduate certificate in science writing from UC Santa Cruz and a bachelor's degree in mechanical engineering from the University of Texas at Austin. Tia was part of a team at the Milwaukee Journal Sentinel that published the Empty Cradles series on preterm births, which won multiple awards, including the 2012 Casey Medal for Meritorious Journalism.