Victoria Beckham Smooches Daughter: Did She Cross a Line?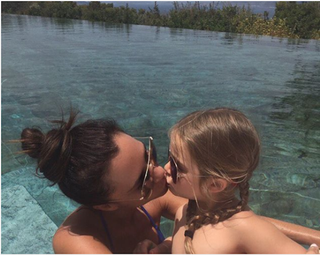 (Image credit: Courtesy of @victoriabeckham, Instagram.com )
A photo of Victoria Beckham kissing her 5-year-old daughter, Harper, on the lips has sparked a wave of outrage online.
Some commenters called the photo "disgusting" and "wrong," but others defended Beckham's show of affection. Some users responded with their own photos of them kissing their children.
Although some people may find the gesture odd, a mother kissing her daughter is not inappropriate, said Dr. Alan Manevitz, a clinical psychiatrist at Lenox Hill Hospital in New York City. [10 Scientific Tips for Raising Happy Kids]
Rather, research suggests that intimacy between parents and children has a positive effect on a child's development, Manevitz told Live Science. "Intimacy," in this case, refers to displays of affection such as holding, hugging, tickling or kissing a child, he noted.
Showing affection is an essential part of a healthy childhood, and kissing is a very normal behavior for babies and young children, Manevitz added. Babies use their mouths to explore the world, he said.
But does kissing a child on the lips lead to a sexualization of images like Beckham's? Manevitz said, "There's no real evidence of that, in terms of studies that I'm aware of," he said. It's more likely that displays of affection have a positive effect on a child, he said.
Manevitz noted that kissing and other acts of affection do have the potential to be interpreted as sexual. There's a tremendous amount of media coverage about adults sexually abusing children, so seemingly natural behaviors, such as bathing with a child or sharing a bed with a child, now may be viewed by some as nefarious acts, he said.
But one question from a psychological standpoint is, Why is a person sexualizing this act? he said. People's condemnation may be a projection of their own issues with sexualization, he said.
You probably don't need to question the parenting abilities of a parent just because they kiss their child on the lips, Manevitz said.
It's also important to understand the context, Manevitz said. What's normal in one family may not be the norm in another family, he said. A mother knows her child, and knows what is appropriate in their family, he said.
Originally published on Live Science.
Stay up to date on the latest science news by signing up for our Essentials newsletter.
Sara is a staff writer for Live Science, covering health. She grew up outside of Philadelphia and studied biology at Hamilton College in upstate New York. When she's not writing, she can be found at the library, checking out a big stack of books.