Alaskan Bears Enjoy a Whale of a Meal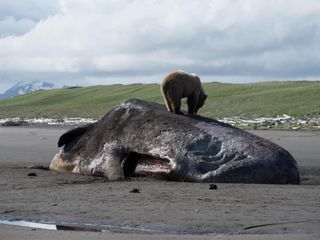 (Image credit: Karyn Traphagen)
A naturalist guide for a remote lodge in Alaska recently photographed an incredible sight — close-up views of a beached sperm whale carcass that was being scavenged by brown bears.
The images were captured by Karyn Traphagen, a naturalist guide with the nearby Tutka Bay Lodge in the south central part of the state. She snapped the photos on June 4 as a bear prowled around the carcass and even climbed on top of it, and then posted the photos on her "Stay Curious" Facebook page, where she chronicles her encounters with Alaska plants and wildlife.
Traphagen told Live Science in an email that the whale was mostly intact when she first saw it, and that bears were "licking the skin and oil and eating soft parts." She described the whale's teeth, visible in the lower jaw, as "bigger than the bear's claws," estimating them to be about 8 inches (20 centimeters) in length. [Image Gallery: Beastly Bears]
An airplane pilot first spotted the beached whale in the beginning of June, and Traphagen later led small groups of lodge guests to observe the location from a distance, so as not to disturb the bears that had begun to feed.
"It was pretty windy, so the smell was not too bad — yet!" Traphagen said.
Largest living land carnivores
The brown bear species Ursos arctos includes several subspecies such as the North American grizzly bear (Ursus arctos horribilis) and the Kodiak bear (U. a. middendorffi). Brown bears are native to Alaska, according to a species description published by the U.S. Fish and Wildlife Service (FWS), appearing across the southeastern part of the state, where they live on islands as well as on the mainland.
The FWS describes males as weighing between 500 and 900 pounds (227 and 408 kilograms) and they are considered to be the largest living land carnivore.
Their core diet varies widely with the seasons, the FWS said — salmon in the spring, grasses in the summer, and berries in the fall, along with pretty much anything they find or catch. Small animals like marmots, squirrels and porcupines might be on the menu, or even larger mammals like caribou and moose.
Grizzly bears in Yellowstone National Park are even known to gorge themselves on moths, filling their bellies with as many as 40,000 of them in a single day.
At this time of year, Traphagen told Live Science, the brown bears she typically sees are eating mostly sedge plants and clams.
"Bears are opportunistic," Traphagen said. "When presented with a high-protein, high- fat food source this early in the season — before they are eating salmon — they will definitely take advantage of it."
Competing for scraps
According to Traphagen, during their second visit to the location on June 7 there were even more bears clustered around the whale. And as the carcass decayed, it became more accessible to other scavengers, as well. Traphagen saw shorebirds pecking at the whale, and spotted wolves watching from a distance. She also found wolf tracks on the sand, hinting that they were feeding when the bears were absent.
Though her work as a naturalist guide involves daily exploration of natural wonders large and small, Traphagen described the sight of the beached behemoth as "exhilarating" — especially with the feeding activity and a volcano as a backdrop.
"There is no such thing as an average or typical day for me," Traphagen told Live Science.
"Every day is different and is affected by things like the weather, the ever-changing seas and tides, and the unpredictable nature of wildlife. I'm just incredibly lucky to be here and to share this," she said.
Original article on Live Science
Stay up to date on the latest science news by signing up for our Essentials newsletter.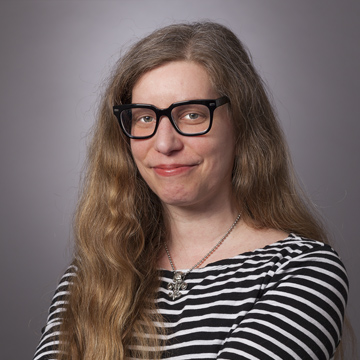 Mindy Weisberger is a Live Science editor for the channels Animals and Planet Earth. She also reports on general science, covering climate change, paleontology, biology, and space. Mindy studied film at Columbia University; prior to Live Science she produced, wrote and directed media for the American Museum of Natural History in New York City. Her videos about dinosaurs, astrophysics, biodiversity and evolution appear in museums and science centers worldwide, earning awards such as the CINE Golden Eagle and the Communicator Award of Excellence. Her writing has also appeared in Scientific American, The Washington Post and How It Works Magazine.