Fish Subsidies Must Come to an End to Save Ocean Stocks (Op-Ed)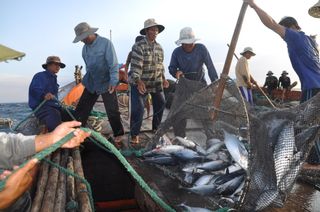 (Image credit: Jamesbox / Shutterstock.com)
U. Rashid Sumaila is a professor and director of the Fisheries Economics Research Unit at the University of British Columbia and research director of the OceanCanada Research Partnership. Sumaila gave testimonyto the U.S. House of Representatives' Ways and Means Committee's forum on the TPP Environment Chapter on Nov. 17, 2015. Sumaila contributed this article to Live Science's Expert Voices: Op-Ed & Insights.
Worldwide, fishing has historically been a critical source of food and jobs, and given its importance, many governments support their local industries with subsidies to keep fisheries competitive in the global market. Now, fish stocks are collapsing after more than half a century of decline.
As such, is it still wise to use taxpayer money to fund fisheries subsidies?
For more than a decade, my colleagues and I at the University of British Columbia have tried to answer that question by applying economic modeling to databases we have compiled on global fisheries subsidies, studying their impact on ocean fish stocks. Our research points to one clear conclusion: Harmful subsidies must be eliminated if ocean fish are going to remain for future generations.
This is why the Trans-Pacific Partnership (TPP), a regional trade deal between the United States and 11 other countries, caught my attention. Although the TPP draws criticism for other aspects of the deal, it successfully established the first binding agreement that directly tackles these fishery subsidies, spearheading an international effort to protect one of our planet's most important resources. [Photos: Freshwater Fish Are Floundering]
Fisheries feed the world
Fish are an important source of food across the globe. According to our research, it provides the equivalent of 120 million mature cows of animal protein each year and an annual global economic impact of $360 billion in jobs and revenue. Oceans and the marine life they sustain are also a source of culture and recreation for people all over the world — think of what Australia would be like without its reefs, or California without its kelp forest.
And yet, poor government policies continue to threaten the oceans, especially the subsidies that drive the industry to unsustainable practices.
The time for subsidies has passed
Of the estimated $35 billion in annual global fishing subsidies that governments provide, our research reveals $11 billion are beneficial subsidies used for research and fishery management programs that help the planet's waterways support more fish, while $20 billion are capacity-enhancing, money used to prop up unsustainable fishing. These capacity-enhancing subsidies artificially inflate fishery revenues by about 20 percent, according to Oceana. Such subsidies, provided mainly by countries like Russia, China, Japan, Vietnam, and Mexico reward overfishing and are depleting ocean fish stocks.
For nearly two decades, the World Trade Organization (WTO) and the United Nations have failed to get countries to agree on provisions that would discipline the use of the most devastating subsidies, or those that reward overfishing.
I was therefore delighted to see, for the first time, binding provisions for tackling fisheries subsidies in the environment chapter of the TPP. Moreover, because the TPP includes 12 of the most active fishing nations as members — together responsible for approximately 30 percent of total global fisheries subsidies, according to the World Wildlife Fund — this agreement will have a measurable impact on fishing levels worldwide.
TPP changes the rules, for the better
The core TPP provisions on fishing subsidies can be found inArticle 20.16 of the environment chapter — these provisions prohibit parties from granting or maintaining subsidies for fishing "that negatively affect fish stocks that are in an overfished condition" and to "Illegal Unreported and Unregulated (IUU) fishing vessels." The agreement also stipulates that each party "shall make best efforts to refrain from" introducing new fishing subsidies, or extending or enhancing existing ones — and the provisions are enforceable through the agreement's dispute settlement mechanism.
The TPP does not stop there: It also includes provisions to aid implementation. Article 20.16(3) of the environment chapter directs nations to operate a science-based fisheries management system, essential for determining what fish stocks are in an "overfished condition" covered by the treaty. And Article 20.16(14) promises resources to support fisheries scientists and managers in member countries implement their obligations.
Other notable provisions of the agreement include a notification requirement, regular review of each country's subsidy program by committee, and authorization for countries to take additional measures to curb illicit fishing, such as banning trade of fishery products derived from illegal fishing, tightening documentation requirements and empowering port authorities to inspect and regulate fishing vessels.
Given the failure of the Doha Round (the latest round of negotiations that set the obligations of WTO members) to deliver on fishery protections, it is encouraging to see these provisions in the TPP. The TPP's path breaking prohibition of subsidies and meaningful support for implementation are significant improvements to the status quo.
More important, the TPP could catalyze the widespread prohibition of similar subsidies in other parts of the world, such as in the European Union, other Asia-Pacific countries, and African and Caribbean Pacific countries — perhaps leading to a broader, more global agreement. Then the TPP would not only be the first agreement of its kind to tackle the thorny subsidies problem, but also the agreement that helped the world deal with one of the key causes of depleting ocean fish stocks, protecting our oceans for many generations to come.
Follow all of the Expert Voices issues and debates — and become part of the discussion — on Facebook, Twitter and Google+. The views expressed are those of the author and do not necessarily reflect the views of the publisher. This version of the article was originally published on LiveScience.com.
Stay up to date on the latest science news by signing up for our Essentials newsletter.