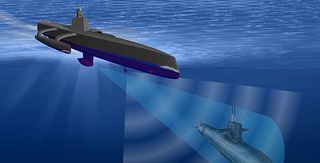 (Image credit: DARPA)
Space battles, unmanned submarine hunters and artificial intelligent systems that help human commanders make split-second decisions may sound like science fiction fodder, but military researchers are hard at work trying to make them a reality.
The U.S. military's Defense Advanced Research Projects Agency (DARPA) has put millions of dollars into projects to develop such technologies, as well as other projects to make cheap, reusable rockets and war technology, officials with the agency said Wednesday (Feb. 10) in a news briefing.
New foes, new technology
The U.S. has typically faced big, monolithic adversaries (think the USSR during the Cold War) or hostile nation states (like Iraq during the Gulf War), and over the past few decades, it has been incredibly dominant, said Steve Walker, the deputy director of DARPA. [Humanoid Robots to Flying Cars: 10 Coolest DARPA Technologies]
In the future, however, "we can't pick the next hotspots in the world and we can't necessarily focus on the fights we can win," Walker said.
Instead of a limited set of well-known foes, the U.S. now faces a myriad of quickly shifting and interconnected threats, from traditionally hostile nation states to criminal organizations to terrorist networks. Fighting those enemies may require something beyond the large, expensive military systems that take ages to design and build.
"We need to mix it up," Walker said.
Robot and man
Toward that end, DARPA is investing in a number of technologies that make warfare cheaper and more flexible.
For instance, the agency is investing in the development of a futuristic, relatively cheap space plane called the XS-1. The reusable plane would launch into suborbital altitudes, flying at hypersonic speeds of Mach 10, to deliver fleets of mini-satellites, then return to repeat the process.
Other proposed projects would take humans out of at least some of the equations of modern warfare. For instance, the agency is designing an unmanned warship that could hunt down ultraquiet diesel submarines — all without a human aboard. The first prototype, dubbed the Sea Hunter, is a 130-foot-long (40 meters) behemoth that took its maiden voyage in the waters off Portland earlier this month and will be christened in April. Such ghost ships could be connected in an invisible grid with other manned vessels, constantly communicating to dynamically assess threats.
Another project aims to put artificial intelligence (AI) in the cockpit with human pilots. The AI would then be used to sabotage the enemy's communication networks.
"The way we would do that is by first of all scouring the spectrum in real time and then second of all applying some of the most amazing technology from the frontiers of artificial intelligence and machine learning to learn what the adversary is doing in the electromagnetic spectrum, start making predictions about what they're going to do and then adapt the on-board jammer," said Arati Prabhakar, the director of DARPA.
Currently, completely unknown signals must be sent back to a central command station, where they sometimes take months to decode, she said.
And the newly proposed Hallmark program would leverage artificial intelligence systems to rapidly assess dynamically changing data in futuristic space battles — then present a set of two or three decisions to a human commander, who would be able to make decisions more quickly than he or she otherwise would.
"You don't want to overload the human; you want to give them exactly what they need to make the decision," Walker said.
Follow Tia Ghose on Twitter and Google+. Follow Live Science @livescience, Facebook & Google+. Original article on Live Science.
Stay up to date on the latest science news by signing up for our Essentials newsletter.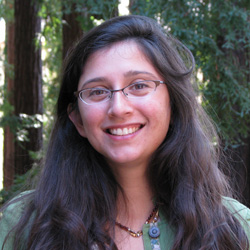 Tia is the managing editor and was previously a senior writer for Live Science. Her work has appeared in Scientific American, Wired.com and other outlets. She holds a master's degree in bioengineering from the University of Washington, a graduate certificate in science writing from UC Santa Cruz and a bachelor's degree in mechanical engineering from the University of Texas at Austin. Tia was part of a team at the Milwaukee Journal Sentinel that published the Empty Cradles series on preterm births, which won multiple awards, including the 2012 Casey Medal for Meritorious Journalism.