Frisky Ferrets Bouncing Back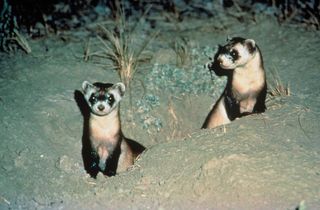 (Image credit: LuRay Parker, U.S. Fish and Wildlife Service)
Thanks to conservation efforts and some exceptionally frisky behavior in the wild, the endangered black-footed ferret is making a comeback.
Scientists considered the furry creatures extinct as recently as the 1970s, but 120 of the ferrets were found in Wyoming in the mid-1980s. Then in 1985 two disease outbreaks wiped out most of the remaining ferrets, and the last 18 were captured for a breeding program.
The offspring of those 18 now live in eight reintroduction sites in the United States and Mexico. This past year has been the "best year yet" for the ferrets, according to biologists at the Arizona Game and Fish Department.
"In addition to the high total numbers from the year's two ferret surveys, the project is also seeing more ferrets reproduce in the wild," said Carrie King, head of the field portion of the Department's ferret reintroduction project, which periodically releases ferrets into the wild in the Aubrey Valley of northwest Arizona.
For five nights every spring and fall—the seasons when the ferrets spend the most time above ground—conservationists use high-powered spotlights to monitor the population.
In the Aubrey Valley, biologists trapped and released 35 ferrets during this year's two surveys, up nearly 50 percent from last year's catch of 24. They also trapped a record 29 wild-born ferrets, which they released after marking them with electronic identification tags.
Biologists try to help the captive-born ferrets make it in the wild by preconditioning them—keeping them in outdoor pens during the winter to get them used to their surroundings before their spring-time release. They also make sure ferrets can avoid predators and kill prey.
"Several factors are contributing to the success of this project," King said. "We release pregnant females each spring. That's the time of year when prairie dogs, the ferrets' main source of food, are born. We also precondition the ferrets bred in captivity before they are released."
Black-footed ferrets, which are related to weasels, can grow up to two feet long and weigh as much as two and a half pounds. One ferret can give birth to three to five kits a year.
Language of Prairie Dogs Includes Words for Humans
Oops! Scientists Nudge Fish Closer to Extinction
U.S. Wildlife Refuges Facing Threats
Stay up to date on the latest science news by signing up for our Essentials newsletter.
Bjorn Carey is the science information officer at Stanford University. He has written and edited for various news outlets, including Live Science's Life's Little Mysteries, Space.com and Popular Science. When it comes to reporting on and explaining wacky science and weird news, Bjorn is your guy. He currently lives in the San Francisco Bay Area with his beautiful son and wife.