Carbon Falling, Economies Rising: Expectations for the Paris Climate Summit (Op-Ed)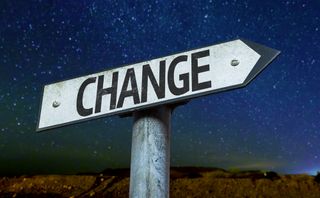 (Image credit: Gustavo Frazao |Shutterstock.com)
Lynn Scarlett is the global managing director for public policy at The Nature Conservancy. Recently, she served as the deputy secretary and chief operating officer of the U.S. Department of the Interior and acting secretary of the Interior in 2006 during the George W. Bush administration. She contributed this article to Live Science's Expert Voices: Op-Ed & Insights.
In 1995, our world was a very different place. The global population was a little more than 5.6 billion people, retailer Amazon had just opened its virtual doors on the Internet, the DVD was introduced and the first UNFCCC Conference of Parties (COP1) took place in Berlin, Germany, garnering the attention of a small set of scientists and policymakers.
That first COP meeting might have found you reading an opinion piece like this one in a newspaper, yet today the odds are good that you are reading it on a smartphone, tablet or laptop. Perhaps you're reading this in pieces over social media — if so, I hope you share and Like it. In 1995, Google co-founders Larry Page and Sergey Brin met for the first time at Stanford University. Today, Google provides instant access to just about everything on Earth, from the raw climate data produced by scientists to the policy commitments countries make to each other and their citizens.
Today, Earth's population stands at more than 7 billion . Real-time data are gathered via drone, satellite and even cellphones, and can be made available to anyone with a smartphone or an Internet connection. The science of climate change is well-understood, and we are living with its impacts today — record drought and heat, and rising seas and storm frequency and intensity. These are no longer tomorrow's problems. As we approach COP21, the eyes of the entire world are watching Paris for a possible agreement and leadership for a better future.
New technology and science are helping us understand the urgency of climate change . We also expect that technology will help us improve the transparency and accountability of government commitments to address carbon emissions. Those collected commitments highlight how countries are working together to steer the planet toward a low-carbon future. In Paris, we are looking for government leaders to come to an ambitious agreement with an eye toward escalating their commitments over time.
To date, more than 150 countries have submitted their INDCs (intended nationally determined contributions), most focused on measures to increase energy efficiency, scale renewable energy and halt deforestation.
Last month, the Secretariat of the United Nations Framework Convention on Climate Change (UNFCCC) announced a summary of the cumulative effects of those commitments against the stated goal of capping warming to 2 degrees Celsius. The initial analysis is encouraging, showing we can achieve that goal if countries remain ambitious both at Paris and beyond the negotiations.
The economic and political opportunity in Paris
While COP summits were once attended only by corporations seeking to maintain the status quo, COP21 will welcome companies from diverse sectors with business models based on a new low-carbon future, commitments to purchase renewable energy that provide market stability, and efficiencies that will save money and move operations away from carbon-emitting energy.
Early leadership is coming from global brands such as PG&E, Ikea, Wal-Mart, Microsoft and Nestlé. Just last month, the White House documented commitments from 81 companies signing on to the American Business Act on Climate Pledge. These companies, along with many others across the world, have recognized that changing corporate practices can affect the climate, as well as affect political calculations.
As this new low-carbon future provides financial and efficiency opportunities, the COP21 dialogues and the momentum for climate action are also opening the door wider for political progress and leadership as well. While the submission of those 150-plus commitments shows engagement from nearly 90 percent of the world's emission-producing nations, few of those national pledges are detailed enough to spell out a clear path to our clean energy future. This need for increased details and mapping out of the steps each country will take makes the push for transparency and accountability crucial.
Many countries still need to step forward with their own commitments prior to Paris. As those additional commitments come in, all observers should be asking of both new submissions, and those previously pledged, how countries will show progress at home in their emissions- reduction plans.
This month saw a positive step from France and China as Presidents François Hollande and XI Jinping came together to call for a post-Paris review process, in which country commitments should be reviewed every five years in order to "reinforce mutual confidence and promote efficient implementation." This level of accountability to peer nations and the public is essential in fostering a continual review toward our progress in limiting global warming to the generally agreed 2-degree goal. [Climate Controversy: Does the 2 Degree Goal Need to Go? ]
Opportunities that new technologies provide allow for increased localized data collection about specific climate action goals, and geo-targeted analysis of results for real-time tracking of INDCs.
Climate change represents an immediate risk to global prosperity, security and human well-being. The emerging groundswell for local and global action, coupled with emerging technologies, are pushing the world toward a political and economic turning point for a low-carbon future.
Follow all of the Expert Voices issues and debates — and become part of the discussion — on Facebook, Twitter and Google+. The views expressed are those of the author and do not necessarily reflect the views of the publisher. This version of the article was originally published on Live Science.
Stay up to date on the latest science news by signing up for our Essentials newsletter.