Happy #Arachtober! Spiders Take Over the Web for Halloween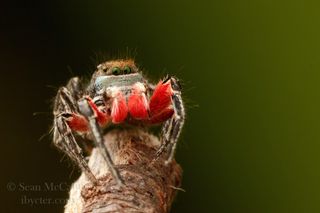 (Image credit: ©Sean McCann)
Photographers and researchers from around the world are teaming up to share spectacular (and sometimes skin-crawling) photos of one of Halloween's most popular mascots: spiders.
But even if they're not your favorite animals, spiders do capture the spirit of the season, and these eight-legged beauties happen to be very cooperative models, according to the folks who started Arachtober, the group devoted to sharing spider-themed photos on social media.
Arachtober started in 2007 as a friendly exchange between two Flickr-using macrophotographers, Joseph Connors IV and Ashley Bradford. (Macrophotography is the art of capturing magnified images on film.) Both Connors and Bradford happened to have a lot of spider pictures saved up, and they figured October, the month of Halloween, would be a good time to share the photos with their followers on Flickr. [Arachtober in Action: Amazing Photos of Spiders from Around the World]
The photographers began by posting a spider picture each day during the week of Halloween, but they quickly realized they had enough photos of arachnids to post a spider photo each day for the entire month of October. And with that, Arachtober was born. (The name came from another Flickr-using spider lover, Jenn Forman Orth.)
"We haven't done much to promote the group's existence, so in the early days [of the group], most new members [of the Flickr group] were friends with another member. This helped build a very friendly group of people from around the world," Connors and Bradford told Live Science in an email.
Over the past eight years, the group has steadily gained more followers, and it got a leg up from entomologist and Wired.com contributor Gwen Pearson (also known as @bug_gwen on Twitter) in 2013, when she wrote a few articles that mentioned Arachtober.
Now, what was once an itsy-bitsy Flickr group with just four members has grown to include more than 160 spider groupies. This year, the group has also gained traction on Twitter, where spider lovers are keeping up the tradition of posting a photo a day of an arachnid, accompanied by the hashtag #Arachtober.
#SpidersRule
Sean McCann, a field researcher at Thompson Rivers University in British Columbia, Canada, and a professional macrophotographer, is one of the people contributing photos to #Arachtober this year via Twitter. His reasons for doing so mesh with the original purpose of the group, which Connors and Bradford said was to "have fun" and hopefully raise awareness about the awesomeness of spiders. [5 Spooky Spider Myths Busted]
"I think sharing on social media can inspire people to think about the wonderful diversity of life we have all around us, even in the city, and perhaps that inspiration can lead to some change in their outlook," McCann told Live Science in an email. Specifically, McCann said he hopes his photos get more people out into nature to "appreciate the living world."
Catherine Scott, a postgraduate student in the Department of Behavioral Ecology at the University of Toronto, Scarborough in Canada, has also jumped on the #Arachtober bandwagon. She thinks October is a great time to appreciate spiders, because they are abundant this time of year in North America.
"It's also the month of Halloween, so it's a great opportunity to try to shift from spiders being spooky and scary to spiders being beautiful and fascinating," Scott told Live Science in an email.
Changing the conversation about spiders is something Scott focuses on all year long. Many of her tweets focus on spider behavior and ecology, with an aim toward dispelling common myths about these animals. She thinks spiders' reputationas venomous threats to humans is "unfortunate" and "undeserved," though she admits that, before she started working with the eight-legged critters, she was a bit afraid of them.
"Knowledge quickly shifted my fear to fascination, and I hope that by sharing knowledge about spiders, others can experience the same switch," Scott said.
Bradford described a similar conversion that occurred when she started working up close with spiders — an experience she said helped her get over the reaction a lot of us have of feeling "creeped out" whenever a spider is around.
"Once I could see how varied they are, how beautiful or even cute some of them can be, and I could watch their movements through that macro lens, they became something to admire rather than fear," she said. "So I admire them with my camera and then share those images, hoping that others will see what I see and admire them, too."
If you don't believe that spiders can be adorable, just have a look at the oh-so-charming peacock spider, Maratus personatus, whose mating dance must be seen to be believed.You can also check out the many other beautiful spiders of the world on Arachtober's Flickr page or by searching the #Arachtober hashtag on Twitter.
Follow Elizabeth Palermo @techEpalermo. Follow Live Science @livescience, Facebook & Google+. Original article on Live Science.
Stay up to date on the latest science news by signing up for our Essentials newsletter.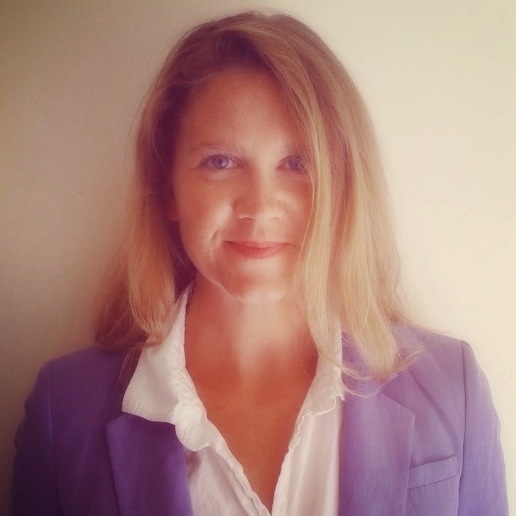 Elizabeth is a former Live Science associate editor and current director of audience development at the Chamber of Commerce. She graduated with a bachelor of arts degree from George Washington University. Elizabeth has traveled throughout the Americas, studying political systems and indigenous cultures and teaching English to students of all ages.