Many People Seek Alternative Pain Therapies, But Don't Tell Doctors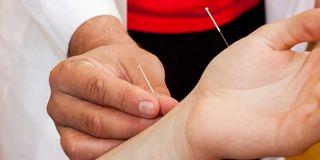 (Image credit: Doglikehorse | Dreamstime)
Many people with chronic pain aren't telling their primary doctors about their use of alternative therapies such as acupuncture and chiropractic work, a new study suggests.
However, such communication is needed to ensure people get the best treatment for their pain, the authors of the research say. Chronic pain conditions can include back pain, arthritis, muscle pain, headache and fibromyalgia.
"The study shows that a substantial percent of patients with chronic pain don't tell their primary doctors about their use of complementary and alternative medicine," said Dr. Charles Elder, the study's lead author and an investigator at the Kaiser Permanente Center for Health Research in Portland, Oregon. Elder and his colleagues didn't look at the reasons that people who suffer from chronic pain conditions neglect to tell their doctors about their use of alternative treatments. Even so, he speculated these patients may not feel it's important to mention, may not think their doctor will care, or may believe their doctor will have a negative view of complementary and alternative medicine. [10 Odd Causes of Headaches]
Interestingly, most people involved in the survey said they would discuss their use of alternative therapies for pain control if their doctors had asked them.
Talking about pain
In the study, published today (July 20) in the American Journal of Managed Care, Elder and his colleagues surveyed about 6,100 people with chronic pain conditions who were members of an HMO in Oregon and Washington. The researchers also had access to members' electronic medical records, so they could find out if the patients had seen practitioners inside or outside of the HMO network and whether any use of alternative therapies was documented in the patients' records.
The researchers found that, between 2009 and 2011, 47 percent of people surveyed reported that they had used chiropractic care for pain relief and 32 percent had used acupuncture. Twenty-one percent of participants had tried both alternative therapies. Overall, 42 percent of men and women with chronic pain conditions who had only been to a chiropractor reported they didn't discuss this treatment with their medical doctors; 35 percent of people who had only seen an acupuncturist for pain did not bring it up with their health practitioners.
Managing pain
The researchers said they were surprised to find that the majority of patients with chronic pain use acupuncture, chiropractic care or both, Elder said. But the study scientists didn't look at whether people believed they benefitted more from alternative therapies compared with more traditional methods of pain control.
The most common reasons people gave for not seeking chiropractic care or acupuncture were: They didn't think these methods would help; they hadn't considered these pain-relief approaches; they didn't know a reputable practitioner, or the cost of treatment was too high, according to the findings.
(Some of the HMO members had health plans that covered alternative therapies, while others sought care outside the network and paid for it out of pocket.)
The survey included only adults with chronic pain who lived on the U.S. West Coast, where the use of alternative therapies may be higher than in other parts of the country, and the HMO's coverage of these therapies may be better than other health insurance plans, Elder said. However, he said, the results are representative of overall usage within the chronic pain community.
He added that people who have chronic pain are increasingly turning to complementary and alternative medicine, and the more dialogue that doctors and patients have about these approaches, the better care will be.
"Managing pain is complex," Elder said. It can involve a variety of different approaches, such as behavior changes, medications, therapies and procedures, he said.
When treating pain, doctors need to be aware of what approaches a person is and isn't using, what methods may be working, and which practitioners that individual is seeing, Elder said.
"Doctors need to know the big picture so that we can offer patients the full spectrum of care in a coordinated way," he said.
When it comes to treating pain, Elder said, "more communication is better."
Follow Live Science @livescience, Facebook & Google+. Originally published on Live Science.
Stay up to date on the latest science news by signing up for our Essentials newsletter.
Cari Nierenberg has been writing about health and wellness topics for online news outlets and print publications for more than two decades. Her work has been published by Live Science, The Washington Post, WebMD, Scientific American, among others. She has a Bachelor of Science degree in nutrition from Cornell University and a Master of Science degree in Nutrition and Communication from Boston University.