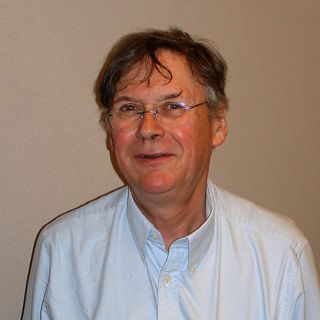 (Image credit: Masur/Wikimedia Commons)
Break out your hankies, ladies: A man just said something that may hurt your feelings.
Earlier this week, Nobel-winning biochemist Tim Hunt made waves when he said he had "trouble with girls" in science.
"Three things happen when they are in the lab: You fall in love with them, they fall in love with you, and when you criticize them they cry," Hunt said on Monday (June 8) to a shocked audience at the World Conference of Science Journalists in South Korea. Hunt won the Nobel Prize in Physiology or Medicine in 2001.
Although the comments have been almost universally decried as sexist (and Hunt has since resigned his honorary position at the University College London), they throw a spotlight on some of the negative attitudes and other challenges that women scientists still face, experts say.
Rising women
The number of women with science and engineering Ph.D.s who work in academia almost doubled between 1996 and 2010, rising from 60,000 to 105,000 during that time, according to the National Science Foundation. And the "leaky pipeline" phenomenon — of more women than men dropping out of science and engineering at every point on the way to a professional career — actually stopped sometime in the 1990s, according to a February study in the journal Frontiers in Psychology. [Women's Progress in Science and Engineering Since 1973]
And even beyond that, attitudes have changed a lot in the last several decades, said Eileen Pollack, the author of the forthcoming book "The Only Woman in the Room: Why Science Is Still a Boys' Club," (Beacon Press, 2015).
"Just because one guy says a stupid remark doesn't mean we haven't made any progress," Pollack told Live Science. "I think the progress is the outcry against him. Plenty of male scientists have thought and even said stuff like this for centuries, and nobody cared."
Discrimination and hostility
Still, women make up only 24 percent of the people in science, technology, engineering and mathematics professions, according to a 2011 analysis by the United States Department of Commerce.
Although experts debate why this is, several studies have found that women face discrimination, harassment and negative stereotypes in STEM professions, which may help explain the low numbers.
Hunt's comments may have been particularly egregious, but they do reflect some underlying bias against women that exists in scientific fields, said Jane Stout, the director of research and evaluation at the Computing Research Association.
Her research has found that many people in both scientific and nonscientific fields agree partially or completely with the statement that men are better suited to computing than are women, she said, noting that this research is as yet unpublished.
"These beliefs exist within the technical, science and computing fields," Stout told Live Science. "They are there, and even more importantly, women know they're there."
One study found that scientists looking at the resumes of prospective lab managers in a simulated hiring task viewed candidates named Jennifer as less competent than candidates named John. The scientists even offered the Jennifers $4,000 per year less than the Johns for the same job, even when the resumes were identical, according to the study, published in 2012 in the journal Proceedings of the National Academy of Sciences.
Many women also face more menacing problems. Nearly two-thirds of women in science have faced sexual harassment on the job, according to a 2014 study in the journal PLOS ONE.
"Sexual harassment is very real," in STEM jobs, Stout told Live Science.
Nobel discrimination
As for Hunt's desire to not to have women in his lab, the now-former honorary professor may not be so different from other Nobel laureates. Although women are fairly close-to-equally represented with men among postdocs and graduate students in 2,000 top-tier biology labs in the United States, women are often shut out of the most prestigious labs headed by men, according to a 2014 study in the journal Proceedings of the National Academy of Sciences.
In fact, male Nobel laureates had just one female postdoc for every three males in their labs, and two male graduate students for every one woman in their labs, the study found. By contrast, labs run by women at the top of their fields, who had won prestigious awards such as the Nobel Prize or the National Medal of Science, showed equal numbers of men and women, said study co-author Jason Sheltzer, a biology doctoral candidate at the Massachusetts Institute of Technology.
This trend can be problematic not only because of the current imbalance, but also for what it may mean for the future. For example, the most prestigious spots in a Nobel winner's lab are seen as feeder positions for other top jobs, Sheltzer said. Nobel winners, who sit on many influential committees, may also have an outsize say in hiring and research-funding decisions, he speculated.
In addition, "a lot of the people who go on to win Nobel Prizes in 20 or 30 years got their training under another Nobel laureate," Sheltzer told Live Science. So this gender bias "can have significant ripple effects."
And Sheltzer's work doesn't back up the notion that Nobel winners prefer men because they are better scientists, he said.
"The women who had made absolutely fundamental revolutionary discoveries in science — when they made these discoveries, their labs were chock full of women," Sheltzer said. [12 Amazing Women Who Totally Rocked at Science]
Science and emotion
As for Hunt's complaints about women crying too much, several studies have found that women do cry more, on average, than men, perhaps because they have shallower tear ducts, according to "Why Only Humans Weep: Unraveling the Mysteries of Tears," (Oxford University Press, 2013).
But Hunt's comments are still problematic, Pollack said. They reflect an attitude that people shouldn't show emotion at work when their research goes badly, when their parents get sick or when they have a bad day, Pollack said. People aren't robots, and work environments that deny peoples' humanity can be hostile to both men and women, Pollack said.
Beyond that, the job of mentoring scientists who are early in their careers involves dealing with emotionally tense moments, whether it's a person crying or people getting defensive or angry when their research isn't going well, Pollack said. Good mentors are able to deal with those situations, she added.
"It's a very frustrating pursuit to carry out research," Pollack said.
As for people falling in love with lab mates, romance between co-workers happens in all workplaces, but the answer is for people to be professional, not to resort to single-sex laboratories, as Hunt proposed, Pollack said.
Follow Tia Ghose on Twitterand Google+. Follow Live Science @livescience, Facebook & Google+. Original article on Live Science.
Stay up to date on the latest science news by signing up for our Essentials newsletter.
Tia is the managing editor and was previously a senior writer for Live Science. Her work has appeared in Scientific American, Wired.com and other outlets. She holds a master's degree in bioengineering from the University of Washington, a graduate certificate in science writing from UC Santa Cruz and a bachelor's degree in mechanical engineering from the University of Texas at Austin. Tia was part of a team at the Milwaukee Journal Sentinel that published the Empty Cradles series on preterm births, which won multiple awards, including the 2012 Casey Medal for Meritorious Journalism.