Spinal Injuries Increasing Among Older Adults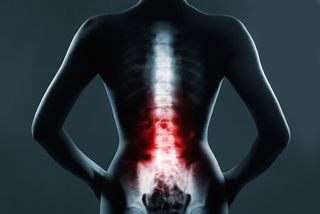 (Image credit: Hamara/Shutterstock.com)
Although the rate of traumatic spinal cord injuries has remained relatively stable in the United States for nearly two decades, there has been a significant increase in these injuries among people ages 65 and older, according to a new study.
This rise in traumatic spinal cord injuries in the elderly is largely associated with an increase in falls, the researchers said.
The study included more than 63,000 patients ages 16 and older who suffered acute traumatic spinal cord injuries between 1993 and 2012. The researchers analyzed survey data from the U.S. Nationwide Inpatient Sample (NIS) databases in order to look at trends in the national rate of traumatic spinal cord injuries, as well as what causes these injuries, what health care resources are used by people with these injuries and in-hospital mortality rates.
They found that the rate of these injuries remained relatively stable during the study period. The estimated rate was 53 cases per 1 million people in 1993, and 54 cases per 1 million people in 2012, according to the findings, which were published today (June 9) in the Journal of the American Medical Association. [7 Ways the Mind and Body Change With Age]
However, the percentage of spinal cord injuries in people ages 65 and older that were associated with falls increased from 28 percent in the period between 1997 and 2000, to 66 percent in the period from 2010 to 2012.
"Falls were determined to be the main reason for the increase in spinal cord injuries in the elderly," said Dr. Nitin B. Jain, a co-author of the study and an associate professor of physical medicine and rehabilitation at Vanderbilt University School of Medicine. "The reason behind the increase in falls in this age group cannot be determined from this particular study, but one theory is that people 65 and older are more active today than in the 1990s, putting them at a higher risk for falls," he told Live Science.
Mortality rates remain high for elderly people who are hospitalized due to spinal cord injuries, Jain said. By understanding the causes of acute spinal cord injuries, researchers will be able to not only identify specific groups of people at risk for falls, but also target preventative measures.
"Preventing falls in this age group is a critical public health issue, especially as the United States population ages," he said. "Possible interventions include rehabilitation measures aimed at improving balance and gait training, as well as educating people about the increased risk for falls while participating in recreational activities."
He added that more research is needed to further examine the reasons behind the increased rate of falls in the elderly before such interventions can be designed.
(Check out a sister site of Live Science's called Dignifyed, which has in-depth reviews of medical alert systems and expert advice related to health and wellness for older people.)
Follow LiveScience @livescience, Facebook & Google+. Originally published on Live Science.
Stay up to date on the latest science news by signing up for our Essentials newsletter.