Lingering Depression May Double Stroke Risk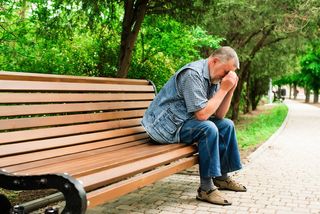 (Image credit: Business plus/Shutterstock.com)
People who have depression for a long time may be at increased risk for stroke, a new study suggests.
Researchers found that adults ages 50 and older who had symptoms of depression that lasted more than two years were twice as likely to have a stroke in the following two years, compared with men and women of similar age with no signs of depression.
"The exact pathway through which depressive symptoms may lead to stroke remains unclear, and is an important area for future research," said study lead author Paola Gilsanz, a postdoctoral fellow at the Harvard T.H. Chan School of Public Health in Boston.
Gilsanz said she suspects the reasons for the link could be related to behavioral risk factors (e.g., people with depression may get less physical activity or may have a tendency to smoke cigarettes) or biological factors (e.g., body-wide inflammation, high blood pressure, diabetes or high blood-lipid levels).
In the study, published today (May 13) in the Journal of the American Heart Association, the researchers reviewed data collected from more than 16,000 adults age 50 and older who had never had a stroke.
Every two years during the 12-year study, researchers interviewed the men and women, to evaluate their symptoms of depression and to find out whether they'd had a stroke.
For each participant, the researchers compared the results from two successive interviews to determine whether the person showed any signs of depression, and whether their symptoms increased, decreased or remained high, meaning they had three or more symptoms of the condition.
Nearly 1,200 strokes were reported among study participants over the 12-year study period, although the researchers noted that they did not keep track of the type of strokes that occurred. [7 Ways Depression Differs in Men and Women]
A stroke occurs when a blood vessel in the brain is either blocked by a clot, or bursts. Strokes are the fifth-leading cause of death in the United States and kill nearly 130,000 Americans each year, according to the Centers for Disease Control and Prevention.
The new findings also showed that people who had symptoms of depression at one interview but not at the next one — which suggests they underwent treatment for depression, or that the condition resolved on its own — still had a 66 percent higher risk of stroke than adults without depression.
This was a surprising finding, Gilsanz told Live Science. The researchers had expected that once a person's symptoms of depression diminished, their risk of stroke would decline as well. But instead, the researchers found that people's stroke risk remained elevated for at least two years afterward.
"It is possible that changes in depressive symptoms seem to take more than two years to influence the risk of stroke," Gilsanz said.
Follow Live Science @livescience, Facebook & Google+. Originally published on Live Science.
Stay up to date on the latest science news by signing up for our Essentials newsletter.