Electric Vehicle Fleet Gives California Green Energy Boost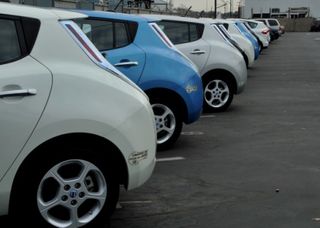 (Image credit: U.S. Air Force/Sarah Corrice)
The crowded highways of Los Angeles just got a little greener, thanks to a new electric-vehicle program sponsored by the U.S. Air Force.
The fleet of 42 electrically powered sedans, trucks and vans was recently unveiled at Los Angeles Air Force Base in California. Based on technology known as V2G, or vehicle-to-grid, the vehicles are plugged in to charge when not in use, but they can also be used as generators — producing electricity that is directed back into the local power grid.
Collectively, the fleet is capable of providing more than 700 kilowatts of power to the grid, which is enough electricity to power 140 homes, Air Force officials said in a statement. [Hyperloop, Jetpacks & More: 9 Futuristic Transit Ideas]
Electric lexicon
The new vehicles will replace Los Angeles Air Force Base's general-purpose vehicle fleet — presumably, the cars and trucks that military personnel use to drive around the city. Many of the vehicles are plug-in electric vehicles, or PEVs.
Unlike hybrid electric vehicles — which rely on gasoline-powered engines to stay charged — plug-in electric vehicles are charged the same way cellphones and other electric devices are charged. You simply plug them into a wall socket to recharge their batteries. There are also plug-in hybrid electric vehicles that still have a gas engine but can also be plugged in to recharge the car's battery packs.
Only some of the military's new electric cars and trucks have gas engines. Others run only on battery power and differ from many other electric cars because of their ability to transfer electricity back to the grid, in a process known as bi-directional charging. In other words, when these cars are plugged into an electric socket, drivers can either charge the vehicle's batteries, or remove the energy stored in the car's batteries and pump it back into the grid.
Powerful stuff
The idea of integrating electric cars into America's power grid has been around since at least 1997, when Willet Kempton, a professor in the College of Earth, Ocean and Environment at the University of Delaware, published his first paper on vehicle-to-grid technology in the peer-reviewed journal Transportation Research.
Kempton's more recent work has focused on how whole fleets of V2G-enabled electric vehicles could be used to support existing power systems, as well as future power systems that rely more on solar and wind energy.
Currently in the U.S., the power grid handles fluctuations in demand for electricity by storing power in large generators. These generators kick on during peak hours of energy usage (e.g., when everyone gets home from work) and they turn off again when demand for power goes down (e.g., in the middle of the night), Kempton told colleagues at a recent lecture at the University of Delaware.
"At times, there really isn't enough electricity on the system, and this is when operators would like to take electricity out of storage devices and put it back on the electric grid," Kempton said. "There is a lot of inherent storage available in electric vehicles, and batteries are the cheapest and most versatile way to store electricity." [The 10 Most Outrageous Military Experiments]
Cars are an especially good energy-storage optionbecause, most of the time, they're not in use, Kempton said.
"If a person buys an electric vehicle, they usually drive it about an hour each day. The vehicle is idle for the remaining 23 hours," Kempton said. "We are going to use this electric storage device for the other 23 hours."
Electric cars are also a cleaner storage option than generators, many of which still use coal, oil or natural gas to generate electricity. However, some of today's generators do use hydroelectric dams or nuclear reactors — not fossil fuels.
Test pilot
The Air Force's new fleet of V2G, plug-in electric vehiclesis one of the first full-scale tests of this technology in the United States. The project received support from the California Energy Commission, which invested $3 million. Federal, state and private energy organizations also contributed to the project, according to Air Force officials.
In the near future, the Air Force hopes to expand its V2G program to other bases around the country, including Joint Base Andrews in Maryland and Joint Base McGuire-Dix in New Jersey.
"The forward thinking of the Air Force promises to be an important signal to the market to move this technology into the mainstream," Kempton said. "By requesting V2G-capable trucks and cars from several vehicle manufacturers, placed in bases in several states, the Air Force has helped to stimulate demand from both automotive suppliers and the electric industry in these states."
Follow Elizabeth Palermo @techEpalermo. Follow Live Science @livescience, Facebook & Google+. Original article on Live Science.
Stay up to date on the latest science news by signing up for our Essentials newsletter.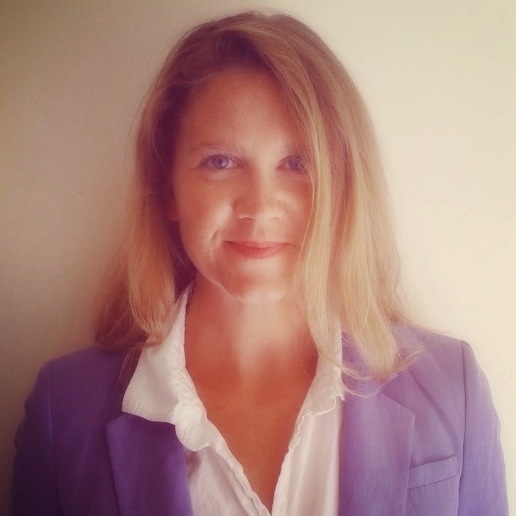 Elizabeth is a former Live Science associate editor and current director of audience development at the Chamber of Commerce. She graduated with a bachelor of arts degree from George Washington University. Elizabeth has traveled throughout the Americas, studying political systems and indigenous cultures and teaching English to students of all ages.