Americans' Trust in Doctors Is Falling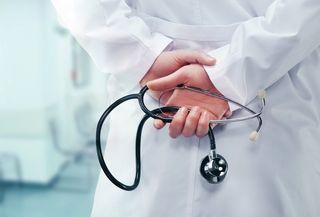 (Image credit: Yevhen Vitte/Shutterstock.com)
Americans' trust in the medical profession has plummeted in recent years, and lags well behind public attitudes toward doctors in many other countries, according to a new report.
That lack of trust comes from how Americans' perceive doctors' motivations, said Robert Blendon, a professor of health policy and political analysis at the Harvard School of Public Health in Boston and co-author of the new report. While physician leaders elsewhere in the world often take public stands on key health and medical issues, Americans perceive the medical profession as looking out for itself, not advocating for public health, he said.
Just 34 percent of U.S. adults polled in 2012 said they had "great confidence in the leaders of the medical profession," down from 76 percent in 1966, according to the report.
And a survey of people in 29 countries found the United States ranked 24th in public trust of doctors. Just 58 percent of Americans surveyed said they "strongly agreed" or "agreed" with the statement that "doctors in your country can be trusted," versus 83 percent of people who said the same in top-ranked Switzerland, and 79 percent in runner-up Denmark.
Only Chileans, Bulgarians, Russians and Poles were less trusting of the medical profession, according to the report, which is published in the Oct. 23 issue of the New England Journal of Medicine. [7 Absolutely Evil Medical Experiments]
For the study, the researchers analyzed dozens of opinion polls looking at the public's trust in doctors. The findings indicate that, these days, Americans see physicians as just another interest group among many, Blendon said.
"What's driving [trust levels] down is that physicians in the U.S., as groups and leaders, are not seen as broad public advocates for health and health care issues," Blendon told Live Science. "In the U.S., they're seen more as a group concerned with their own professional problems and economic issues."
Making matters worse, he added, is that there are 20-plus major physician specialty groups out there, and each makes its own policy statements.
Although U.S. physician groups could burnish their image by banding together and taking stands on important issues, such as the need to bring down health care costs, they've largely been absent from these discussions, Blendon said.
But the report also found that over the last four decades, Americans have remained quite satisfied with their personal physicians. The United States ranked third, right behind Switzerland and Denmark, in the percentage of people who said they were "completely or highly satisfied" with their last visit to their doctor.
The researchers noted that Americans who made less than $30,000 yearly were both less trusting of physicians overall and less satisfied with their personal physicians, compared with those who made more money.
The overall physician "trust gap" between the United States and the rest of the world should inspire doctors to make changes, Blendon said.
For people who play leadership roles in medical organizations, "it's in their interest long-term to want to raise their stature as groups and leaders if they want to have a broader say in where the health care system's going," Blendon said. "Over time, professions pay a price if they don't have a wellspring of better trust and support, because their overall views are less valued."
Follow Live Science @livescience, Facebook & Google+. Original article on Live Science.
Stay up to date on the latest science news by signing up for our Essentials newsletter.