The Real Cost of Our 'Disease Care' System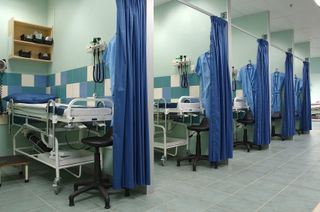 (Image credit: stockxpert)
Everyone knows health care costs are busting us, as individuals and as a nation. Reform is needed, but the question is whether it will come and whether it will do the job.
Here's how bad it has gotten: Medical bills were behind nearly two-thirds of all U.S. bankruptcies in 2007, researchers said in June. And most of those folks were middle class; most were homeowners; most went to college; most had health insurance. And that data came from before the economic downturn.
Our health care system should really be called a "disease care system," says Mohammad Torabi of Indiana University Bloomington's School of Health, Physical Education and Recreation.
As we've heard, the system is busy trying to stamp out diseases without focusing on the prevention of them, which would've cost a lot less. And with nearly 75 million Americans uninsured or underinsured, according to Dr. Mutaz B. Habal of the Tampa Bay Craniofacial Center, more and more of these folks end up at the emergency room, which is a much costlier way of caring for people than seeing them before their conditions become emergencies.
Spending on U.S. health care was more than $2 trillion in 2006 (that's about $7,026 per resident), almost three times the $714 billion spent in 1990, according to the Kaiser Family Foundation. Health care expenditures that year grew at a rate of 6.7 percent, outpacing inflation, the foundation states.
So will Congress pass a bill that realizes President Obama's commitment to health care reform? And if so, will that stop the madness, described by Habal as insurance companies and hospital administrations competing as armies "to develop and impose a business model for their own profit"? That description was published in a recent editorial in The Journal of Craniofacial Surgery.
"Society is ripe and eager for reform," Habal says, adding that "traditional players in patient care are out. New players are in, and they want a system that works."
Apparently, we weren't eager enough in 1993-94 … or six other times before that in the past century when legislators failed to pass health care reform legislation, said Timothy McBride, associate dean of public health at the George Warren Brown School of Social Work at Washington University in St. Louis. (The only successful health care reform in the past 100 years has been the passage of Medicare and Medicaid in 1964-1965.)
Still McBride thinks that once the debate dust settles, "it is much more likely that legislation will pass this year."
Three reasons, he says: There are nearly enough Democratic senators to prevent a filibuster by Republicans who oppose reform legislation; the recession puts even more pressure on Congress to do something; President Obama's commitment to health care reform as his top domestic priority.
McBride says most of his public health colleagues also health care reform legislation this year is more likely to pass than it has ever been. "We tend to be a cynical lot about politics, so this view of what will happen this year is relatively unusual," he added.
A recent poll of Southwesterners suggests that the time has come.
More than half those polled (53 percent) by the Institute for Social Science Research at Arizona State University said they think "a great deal of reform" is needed in our health care system. The same percentage "strongly" or "somewhat" supported the U.S. government guaranteeing health insurance. Broken down by age, 41 percent of people over 61 felt this way, while 61 percent of those between 18 and 30 felt this way. The phone survey was conducted March 30 to May 10 among a random sample of 501 adults.
Physicians apparently also are ready. A study last year found that 59 percent of physicians favored legislation for national health insurance, an even more wide-reaching reform than what President Obama proposes. The study was conducted by the Indiana University Center for Health Policy and Professionalism and published in the Annals of Internal Medicine.
Dr. David Orentlicher, co-director of the Center for Law and Health at the Indiana University School of Law-Indianapolis, also thinks Congress will pass some form of health care reform.
The trouble, Orentlicher predicts, is that the reform will not be deep enough and will not result in coverage for all. Congress will probably expand a dual-track system — in which most of us under 65 are covered by employers and the poor under 65 are covered by the government via Medicaid, which is underfunded.
"Medicaid only services the poor, so it doesn't have sufficient political support to guarantee full funding," Orentlicher told LiveScience.
When everyone is in the same system, it can achieve universal access, he said, adding that a universal program would prevent insurance companies from turning people away for pre-existing conditions and other factors.
Specifically, Orentlicher advocates a voucher system that would cover health insurance policies in full and that insurers would be required to honor, no questions asked. But there is little political will for this approach currently, he said.
In any case, research shows that health care reform will bring more health — for the insured, at least, Orentlicher and McBride said. For the uninsured, it is harder to tell and will depend on the implementation and effectiveness of programs to improve health status and reduce disease, McBride said.
And reform, if it comes, will bring our health bills down "by some small amount at least," McBride said. That's because all of us won't be carrying as high a bill for medical care provided to the uninsured — amounting to tens of billions of dollars per year. More of those folks will be covered under reform.
So hopefully that means fewer of us go bankrupt.
Each week in Dollars & $cience, Robin Lloyd makes sense of the financial world and explores the latest findings that hit you in the wallet.
Stay up to date on the latest science news by signing up for our Essentials newsletter.
Robin Lloyd was a senior editor at Space.com and Live Science from 2007 to 2009. She holds a B.A. degree in sociology from Smith College and a Ph.D. and M.A. degree in sociology from the University of California at Santa Barbara. She is currently a freelance science writer based in New York City and a contributing editor at Scientific American, as well as an adjunct professor at New York University's Science, Health and Environmental Reporting Program.