Dogs Get Pricey Stem Cell Therapy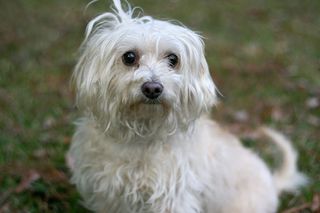 (Image credit: dreamstime)
Stem cell therapy is still years away for you, but for your pooch this modern medical procedure is now available.
Vet-Stem, a privately held company in San Diego, Calif., began offering fat-derived stem cell therapy this month for treatment of arthritis as well as tendon and ligament injuries in dogs. The pricy procedure uses an animal's own fat to obtain adult stem cells, which are then injected into the problematic area to stimulate growth of healthy cells, spurring regeneration.
"We've seen stem cell therapy help dogs whose pain was previously so severe that they struggled to stand, jump into cars, chase balls or run up and down stairs," said Robert Harman, DVM, and founder of Vet-Stem. Treatment cost ranges from $2,000 to $3,000. So far, the company has trained more than 100 board certified small animal veterinary surgeons nationwide to offer the procedure.
How it works About two tablespoons of fat, usually from the abdomen or shoulder blade area, are removed from an anesthetized dog for shipment to the company. Within 48 hours, the laboratory isolates stem and regenerative cells from the fat and ships them back to surgeons in ready-to-inject syringes. Cells are not engineered or modified in any way, the company says, and in dogs with osteoarthritis, extra cells are frozen in case re-treatment is necessary. Stem cells are known for their amazing ability to morph into any kind of tissue, but Harman says they do so much more. "A huge part of what they do is to provide growth factors and chemicals that help the injury heal," he said. "It does so by reducing inflammation — it actually blocks inflammatory molecules. They block scar tissue from forming and they recruit in all other kind of healing and stem cells from other places in the body, so they're actually like a master healing cell." Since 2004, the company says it has successfully treated 3,000 horses with tendon, ligament and joint injuries, with many going on to compete again at their prior level of performance.
About 200 dogs have been treated by the company in the past three years. Harman said the only side effect seen in a small number of cases is inflammation at the injection site, lasting a few days.
Other treatments
Soon other cutting-edge regenerative therapy might be available for canines. Veterinarian Richard Vulliet, a professor in the molecular biosciences department at the University of California, Davis, is studying to see if stem cells derived from bone marrow can treat degenerative myelopathy, a spinal cord disease affecting German shepherds and Pembroke Welsh Corgis.
Since the disorder is similar to multiple scoliosis, discoveries made in dogs could be applicable to people, he said.
No federal regulations are in place for stem cell treatment in animals so veterinarians can progress quickly to discover new applications.
"We can do more, better, faster and cheaper than a clinical medical trial in humans," he said.
Within the next few weeks Vulliet plans to inject the first dogs in his study, suffering from degenerative spinal disease, with bone marrow stem cells. A successful outcome in those family pets and others could lead to a commercially available treatment as early as next year. As for fat stem cells, he said it's too soon to tell if the therapy is safe. "You never want to be the first one to use a new treatment," said Vulliet.
Tough decisions? The American Veterinary Medical Association (AVMA) in Schaumburg, Ill., which represents more than 76,000 veterinarians, fully supports the ethical use of stem cells for the benefit of animal health but admits it's hard to keep up with the breathtaking pace of research and new treatments. "I don't know that anyone in the AVMA has heard anything specific about how efficacious [Vet-Stem's treatment] has been," said veterinarian Elizabeth Sabin, the association's assistant director of education and research. "It's just perhaps too new of a technology."
Last week, the results of a double-blind control study by Vet-Stem which showed improved mobility in dogs with osteoarthritis was published in the journal Veterinary Therapeutics.
While some dog owners might want to take a wait and see approach, Vulliet said not everyone has the luxury of delaying treatment.
"It's nice to say: 'I'd wait a couple of years until this flushes out' — and I would — except that you've got a real dog that has a real disease right now," he said.
John Doyle, a dog trainer in Poway, Calif., is glad he didn't wait. His border collie, Buzz, severed a rear tendon last year. The 2-year-old dog underwent surgery then had a series of three fat stem cell injections. Doyle's veterinarian told him Buzz's recovery could take a year — practically an eternity for a high-energy dog that competes in sheep and cattle herding events internationally.
With Vet-Stem's new therapy, recovery was much faster.
"In six weeks this dog was working again," said Doyle. "It's a stunning turnaround."
What is a Stem Cell?
Vote For Your Favorite Pet
The Freakiest Lab Animals
Stay up to date on the latest science news by signing up for our Essentials newsletter.