Rabbit, Dog, Human: How One Bacterial Infection Spread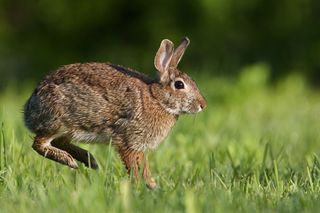 (Image credit: Tom Reichner / Shutterstock.com)
A woman in Arizona died from an infection called rabbit fever, despite never coming into contact with any rabbits, according to a recent report of the woman's case.
The 73-year-old woman first got sick on June 6, 2016, and died five days later from severe breathing problems, according to a report published today (Aug. 24) by the Centers for Disease Control and Prevention.
It wasn't until June 17 of that year, however, when the results of a blood test came back, that doctors learned the woman had rabbit fever, which is also called tularemia. [10 Bizarre Diseases You Can Get Outdoors]
Rabbit fever is a bacterial infection caused by the bacterium Francisella tularensis, according to the report. Symptoms typically start three to five days after exposure to the bacteria and can include fever, skin lesions, difficulty breathing and diarrhea. Though the infection can be deadly, most infections can be treated with antibiotics, according to the CDC.
People can get rabbit fever through insect bites, coming into contact with an infected animal or inhaling the bacteria.
Though the woman lived in a semirural area, she told doctors that she didn't participate in outdoor activities, according to the report. In addition, the woman didn't have any insect bites, and hadn't been exposed to any animal carcasses or untreated water, the report said.
Her dog, however, had been found that May with a dead rabbit in its mouth, and was later noted to be lethargic and eating less. After the woman died, doctors tested the dog, and found signs of the infection in its blood. In addition, investigators found a number of infected rabbits around the woman's property.
Because the woman had respiratory symptoms, the researchers think she inhaled the bacteria, potentially from her dog, the report said. It's possible that the dog had the bacteria in its mouth after catching the dead rabbit, or there were bacteria on its fur, the authors said.
About 125 rabbit fever cases are reported in the U.S. each year, the report said.
Originally published on Live Science.
Stay up to date on the latest science news by signing up for our Essentials newsletter.
Sara is a staff writer for Live Science, covering health. She grew up outside of Philadelphia and studied biology at Hamilton College in upstate New York. When she's not writing, she can be found at the library, checking out a big stack of books.