Scientists Lead Huge Climate Change March in NYC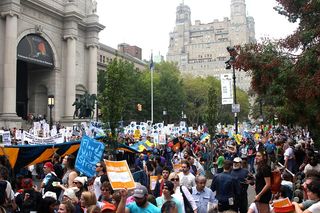 (Image credit: Kelly Dickerson)
This story was updated at 3:15 p.m. EDT on Sept. 23.
NEW YORK — Lab-coat-clad and picket-sign-wielding scientists were on the frontlines of the People's Climate Change march yesterday (Sept. 21) along with hordes of students and others concerned about the planet's changing climate.
The march, organized to bring more public awareness to climate change effects and policies, was planned in anticipation of the UN Climate Summit that will meet at the United Nations headquarters in Manhattan tomorrow (Sept. 23). The march was divided into six different themed sections and scientists marched in the "The Debate Is Over" section. Many carried signs with slogans like "We are the 97 percent consensus," "Science is not a liberal conspiracy" and "Friends don't let friends deny reality."
Mike Greene, a professor of ecology at the University of Colorado Denver, said it's important for science to inform the policy decisions made in the future, and the only way that will happen is if scientists take a more active role. [The Reality of Climate Change: 10 Myths Busted]
"It's time for nerdy scientists to show our knowledge, and stop being so passive," Greene said.
The scientists' main prop was a giant blackboard with the slogan "The 'Debate' Is Over!" that displayed a line graph of how much carbon dioxide in the atmosphere has increased over time and how much global temperatures have increased over time. Today carbon dioxide in the atmosphere is around 400 parts per million, and is projected to surge to a new high this year.
Melissa Tier, a sociology student, said she was proud to see the turnout from the scientific community. "It's really exciting to see the unification of science and activism," Tier said. "That's pretty rare, but we need more of it."
Katie Holten, a New York-based artist who has worked on many environmental and science-influenced art projects, said climate change is the most important issue of our time. "Change is complicated, and there's not just one issue," Holten said. "But I think the bottom line is that we have to cut emissions now."
Alex Ahn, an undergraduate student studying marine science, said that scientists should speak out, because they have a unique perspective on climate change. "Climate systems are the major driver of marine ecosystems, so I've seen the changes firsthand," Ahn said.
He was impressed with the domestic concern for climate seen in this year's march compared with the march in Warsaw last year that focused more on international issues of climate change.
"It's great to see people here really taking responsibility for their own contribution," Ahn said.
An estimated 300,000 people marched yesterday from Central Park West down to 34th Street and 11th Avenue. The People's Climate March has activities planned for the rest of the week, including a "Flood Wall Street" sit-in scheduled for today (Sept. 22) to protest the role big business plays in contributing to climate change. Organizers expect anywhere from a few hundred to 1,000 protesters to participate.
Editor's Note: This story was updated to correct the "University of Colorado, Denver" to the "University of Colorado Denver."
Follow Kelly Dickerson on Twitter. Follow us @livescience, Facebook & Google+. Original article on Live Science.
Stay up to date on the latest science news by signing up for our Essentials newsletter.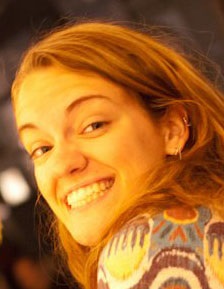 Kelly Dickerson is a staff writer for Live Science and Space.com. She regularly writes about physics, astronomy and environmental issues, as well as general science topics. Kelly is working on a Master of Arts degree at the City University of New York Graduate School of Journalism, and has a Bachelor of Science degree and Bachelor of Arts degree from Berry College. Kelly was a competitive swimmer for 13 years, and dabbles in skimboarding and long-distance running.