Qatar Leads New Research into Cleaner Jet Fuel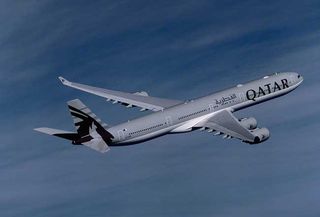 (Image credit: Airbus S.A.S)
Four Qatar-based organizations are partnering with Airbus, Rolls-Royce and Shell International Petroleum to research the potential benefits of using synthetic, cleaner jet fuel in commercial aircraft engines.
At this week's Dubai Airshow, Qatar Airways, Qatar Petroleum, Qatar Fuel Company and the Qatar Science and Technology Park signed an agreement with the three companies to study the feasibility of powering jetliners with gas-to-liquid (GTL) synthetic jet fuels created by converting natural gas to kerosene.
No equipment modification needed
According to the partners, the properties of GTL kerosene are largely similar to those of conventional jet fuel, making it a "drop in" replacement for oil-derived kerosene in aero engines and airports without requiring any modifications to equipment. Combustion of GTL kerosene in jet engines creates less particulate emissions than does petroleum-derived kerosene, they added.
Initially, the research project won't run jet engines purely on synthetic fuel – it will be mixed with regular jet fuel, probably in equal proportion, the partners said.
The research will focus on evaluating potential improvements in local air quality, fuel economy and reductions in carbon dioxide and other emissions. Other studies will evaluate the operational benefits for airlines of using GTL kerosene, such as enhanced payload-range performance, reduced fuel burn and increased engine durability.
Mick Forey and Sjoerd Post, respectively Rolls-Royce's senior vice president – airlines and a vice president of Shell, explained to media at the Dubai Airshow that GTL kerosene burns more cleanly and possess higher energy density than oil-derived kerosene, allowing aircraft to burn less fuel to fly the same distance.
Much cleaner air expected round airports
Forey and Post also explained that GTL kerosene produces no nitrate or sulfur emissions so, although using GTL kerosene in commercial jetliner engines won't reduce CO2 emissions enormously, it should provide large-scale improvements in air quality at and around airports.
Qatar Airways' aim, revealed publicly by CEO Akbar Al-Baker earlier this year in New York on the occasion of his airline introducing service to the U.S., and reiterated at the Dubai Airshow, is to become the first airline to perform a flight fueled solely by GTL kerosene. Its aim is consistent with the development of the Pearl GTL project at Ras Laffan Industrial City in Qatar, intended to make Qatar "the GTL capital of the world," according to the partners.
The conversion of natural gas to kerosene is performed using a variation of the Fischer-Tropsch catalyzed chemical process originally developed by Franz Fischer and Hans Tropsch at the Kaiser Wilhelm Institute in Germany in the 1920s.
Research into "drop in" GTL kerosene confirms to the framework set out by the Commercial Aviation Alternative Fuels Initiative (CAAFI), an international consortium including Airbus, Rolls-Royce and Shell among its members. CAAFI is coordinating the development and commercialization of "drop in" alternative fuels that can directly supplement or replace petroleum-derived jet fuels.
Timetable for synthetic fuel development
Under the FAA's oversight, CAAFI's Certification and Qualification Panel has outlined a roadmap for alternative-fuels airworthiness approvals, including synthetic fuels derived using the Fischer-Tropsch process.
The roadmap supports the approval of a 50-50 semi-synthetic blend of Jet A/A1 kerosene and synthetic fuel by late 2008. It also supports development of a 100-percent synthetic fuel specification by the end of the decade, in time for the Pearl GTL plant coming online.
Pearl GTL will produce 120,000 barrels of oil's worth of condensate, liquefied petroleum gas and ethane a day, as well as 140,000 barrels a day of high-quality GTL fuels and products. The plant's production will include 12,000 barrels per day of GTL kerosene, an output equivalent to some 500,000 metric tonnes of GTL kerosene a year. Pearl GTL will be not only the largest integrated GTL project in the world, but also the largest energy project ever launched in Qatar.
Qatar Airways is a major customer of both Airbus and Boeing and -- along with Russia's Aeroflot and Vietnam Airlines --one of three airlines to order both the Boeing 787 Dreamliner and the rival Airbus A350 XWB. Recent orders by the airline include a huge deal for 80 Airbus A350 XWBs and a big Boeing order for 30 Dreamliners and five Boeing 777F freighters to add to an order for 22 777s that Qatar Airways placed last year.
Stay up to date on the latest science news by signing up for our Essentials newsletter.