Woman Has Strange 'Psychotic' Reaction After Using 'Spice'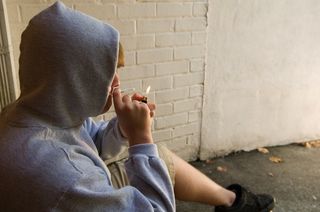 (Image credit: ejwhite/Shutterstock.com)
Using synthetic cannabis — sometimes called "spice" — can pose serious health risks, and in a recent case, the drug even caused one teen to become catatonic, which is a state of severely impaired movement and thinking ability.
The 19-year-old woman in Spain experienced "catatonic psychosis" after smoking synthetic cannabis regularly for a year, according to the report of her case. She sought treatment at a clinic in Valencia in May 2012, and after she stopped using the drug and underwent treatment, she fully recovered by June 2013.
The woman's case shows that using spice can have more serious health consequences than researchers thought, said study author Dr. Gonzalo Haro, a professor of medicine at the CEU Cardenal Herrera University in Valencia. Spice also has a more powerful effect on cannabinoid receptors in the brain than natural cannabis does, Haro said. Cannabinoid receptors, which can be activated by substances produced in the body as well as drugs such as natural or synthetic cannabis, are involved in a number of physiological processes such as appetite, pain sensation, mood and memory.
The patient started smoking spice in April 2011, after she substituted it for hashish, which she had regularly smoked before. She reported that, after using synthetic cannabis, she felt "like a zombie," the researchers said. [Trippy Tales: The History of 8 Hallucinogens]
In November 2011, the woman's behavior started to change drastically; she reported feeling that people were looking at her when she was eating and began talking to herself. Her personal hygiene deteriorated, causing her to look disheveled, the researchers said.
When she was looking at herself in the mirror, "she felt that she wasn't the girl on the other side," as if she was in a dream, Haro said. In general, she became detached from reality, as she felt that whatever was happening to her was not real, and she was observing the world from the position of a spectator. She also had visual hallucinations, which included seeing "little angels" in the bathroom, the researchers said.
The woman's movements were also impaired by the psychosis — her arms did not move in coordination with her legs when she walked, Haro said. She stood in a bent-over position, resembling that of a praying mantis, and her neck, head and arms all became rigid.
The doctors at the clinic treated her with medications that are used to treat depression, anxiety and Parkinson's disease. However, it was the woman's cessation of spice use that probably played a more important role in her eventual recovery than the medications she took, Haro said.
And the recovery process was not easy for the woman, the doctors wrote in their report. Her difficulties with movement coordination partially disappeared after two months of treatment, but the stiff, praying-mantis position persisted for a while after she stopped treatment in September 2012.
Previous reports have shown that using spice may result in seizures, heart palpitations and kidney problems, among other health issues.
Haro stressed that people should be aware of the serious consequences of using spice. Other experts have also warned about the consequences of using this drug.
"These drugs are unregulated," Dr. Joanna Cohen, a pediatric emergency physician at the Children's National Medical Center, told Live Science in a March 2012 interview. "Symptoms can be unpredictable because the drug is mixed with other types of chemicals and substances."
The case report was publishedin the June issue of the journal Psychiatry: Interpersonal and Biological Processes.
Follow Agata Blaszczak-Boxe on Twitter. Follow Live Science @livescience, Facebook & Google+. Originally published on Live Science.
Stay up to date on the latest science news by signing up for our Essentials newsletter.