Peaceful Trend? Kids See Less Violence Today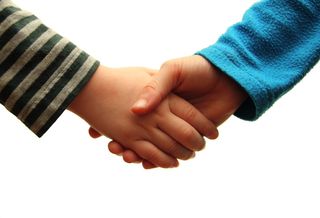 (Image credit: <a href='http://www.shutterstock.com/pic.mhtml?id=97041992&src=id'>Kids shaking hands photo </a> via Shutterstock)
The amount of violence and crime that children see in real life, including bullying and sexual victimization, dropped between 2003 and 2011, according to a new study.
In the study of 2- to 17-year-olds, the researchers examined 50 types of violence that kids might witness or experience themselves, and found that between 2003 and 2011 there were significant declines in kids' exposure to 27 types of violence, and no significant increases.
The study also found that there were decreases, and no increases, in kids' exposure to violence between 2008, the year when the economic recession started, and 2011. Some of the reasons behind the decreases might be the increasing use of psychiatric medication, and the widespread use of technology, which can reduce the risk of violent physical interaction between people, the researchers said.
"Typically, when economic times are bad," the stress of many people losing their jobs and homes can lead to conflict and more victimization, said study author David Finkelhor at the University of New Hampshire, Durham. He was surprised to see that the economic crisis did not seem to have that negative an effect on violence rates, he added. [Fight, Fight, Fight: 10 Weapons in the History of Human Aggression]
In the study, the researchers examined data from three national telephone surveys on kids' exposure to violence, and found declines in kids witnessing or experiencing assaults that involved weapons or injuries, as well as assaults committed by peers and siblings. The study also found decreases in kids seeing acts of bullying and sexual victimization.
Boredom is a common trigger for violent behavior, but today's society has brought engaging technologies to many people. "Technology can be very engrossing, and boredom has declined," Finkelhor said.
Moreover, because of technology, people now spend more time at home and have less face-to-face communication with others, which lowers the risk of physical assault.
Other technology-related factors explaining why exposure to violence in kids has dropped might be the wide availability of cell phones, which make it easier for potential victims of violence to call for help, and the increased use of surveillance equipment. "People know they are being recorded," Finkelhor said.
The findings seem to support other statistics that show that rates of violent crime have decreased in the United States since the 1990s.
Other researchers stressed the fact that the data used in the study did not find an increase in children's exposure to violence during the economic crisis. "The data shared by Finkelhor et al. refute the notion that crime and victimization data necessarily rise in economic hard times," wrote John R. Lutzker, a researcher at Georgia State University, in an editorial published with the new findings.
Incidents that are reported by the media may lead people to think that violence is on the rise, and they overestimate how prevalent it really is, Lutzker wrote. "All too often, incidents of mass violence — such as shootings at schools, theaters or malls — dominate the news (which is understandable) and raise fears among the public," Lutzker wrote.
It is therefore important for both the media and the public to "be informed of the good news about these trends," he wrote.
Follow Agata Blaszczak-Boxe on Twitter . Follow Live Science @livescience, Facebook & Google+. Original article on Live Science.
Stay up to date on the latest science news by signing up for our Essentials newsletter.