Russia, Ukraine, and Europe are Tied by Gas Dependency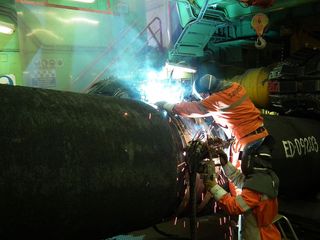 (Image credit: Bair175, CC BY-SA.)
This article was originally published at The Conversation. The publication contributed the article to Live Science's Expert Voices: Op-Ed & Insights.
The German energy giant RWE has begun to "reverse flow" supplies of gas from Europe back to Ukraine via Poland, a process first arranged in 2012, with an agreement to deliver up to 10 billion cubic metres (bcm) of gas per year.
The question for the Ukrainian interim government and state-owned energy firm Naftogaz is how this gas will be delivered, how soon, and whether it will be enough. Hungary has the capacity to deliver 5.5 bcm, Poland could deliver 1.5 bcm, and Romania could potentially provide 1.8 bcm capacity, but not before 2016-17 at the earliest.
Talks between Ukraine and Slovakia have renewed in an effort to tap into its capacity to deliver 9 bcm of gas, but the Slovak government and pipeline operator, Eustream, are anxious to ensure that feeding gas back to Ukraine does not breach its contracts with Russian state-owned energy giant Gazprom. Given that Ukraine imports around half of its annual 55 bcm of gas consumption, even with these new suppliers it will remain dependent on Russian gas.
The current situation comes as Kiev faces price hikes from US$285 to US$485 per thousand cubic metres of Russian gas, after Gazprom cancelled discounts offered in April 2010 and December 2013. The new price is significantly higher than, for example, the price of US$399 paid for Russian gas at the German border.
Naftogaz has struggled to pay for its Russian gas imports since late 2013, and now owes Gazprom more than US$2 billion. The combination of Naftogaz's debts and unwillingness to pay the higher price means that many in Europe fear a suspension of Russian gas supplies to Ukraine – which, as it travels through the same pipelines, would also interrupt Russia's gas exports destined for Western Europe.
This is not the first time that Russia and Ukraine have clashed over gas prices. For more than a decade following the collapse of the Soviet Union, Ukraine benefited from Russian gas import prices far lower than those in Western Europe. Attempts by Gazprom to raise gas prices for Ukraine resulted in disputes and suspensions of gas supplies to Ukraine in January 2006 and January 2009.
With Gazprom delivering 140 bcm to the EU in 2013 – more than a quarter of the EU's total gas consumption – this has left many countries scrambling to find alternative ways to meet their needs.
Find new routes
Russian gas is delivered to the EU via several routes, of which the Ukraine pipelines are the most important, accounting for 55-60%. Around 25-30% travels through Belarus, and the remainder comes through the new Nord Stream gas pipeline, which runs under the Baltic Sea directly from Russia to Germany.
Opened in late 2011, Nord Stream is 51% owned by Gazprom, with the remaining shares owned by European energy companies (BASF Wintershall, E.On, Gasunie, and Gaz de France). The pipeline's capacity can reach 55 bcm per year, but due to regulatory problems in Germany is currently operating at half capacity.
Gazprom is also planning the South Stream pipeline, another joint-stock partnership between Gazprom and local energy companies in each of the states it travels through. This would link Russia to Bulgaria under the Black Sea, through Serbia, Hungary, and Slovenia to northeast Italy.
If built, the 63 bcm per year capacity of South Stream and the 55 bcm capacity of Nord Stream combined could reduce Russia's dependence on the Ukraine pipelines to almost nothing, if Gazprom's current export levels of gas to Europe remain stable.
Find new sources
Ukraine's efforts to find alternative sources of gas imports have led to protests from Gazprom. The gas that would be exported from the European market to Ukraine would actually be Russian gas, being re-exported at a profit by European energy companies. Gazprom claims such a scheme could be illegal, but has not clarified on what grounds.
Re-exporting imported gas was previously forbidden in Gazprom's contracts with European energy companies, under the "destination clause". But by 2006, these clauses had been removed on the grounds that they infringed Article 81 of the European Community Treaty (restrictive business practices). So any European energy company – theoretically, at least – now has the right to re-export gas, regardless of its source or destination.
The legality of re-exporting Russian gas from Europe to Ukraine may hinge on Gazprom's gas transit contracts with Naftogaz and Eustream. These contracts effectively "reserve" the pipeline for delivering gas from east to west. Should Naftogaz and Eustream reverse the flow of their pipelines without Gazprom's agreement, they could be in breach of contract. This condition applies even if those pipelines are not being used at full capacity, as is currently the case, and even if Naftogaz and Eustream are still able to fulfil their commitments to deliver Russian gas from east to west.
Recognise mutual dependence
They key aspect of this situation is the extent to which all parties depend on each other. While the EU sources more than 25% of its gas consumption from Russia, around 60% of Russia's gas exports are to the EU. Almost 60% of Russian gas exports to the EU are delivered via Ukraine, which is itself also almost entirely dependent on Russia for its gas imports (imports account for just over half of Ukraine's gas consumption).
Occasionally the European media refer to Russia's gas as an "energy weapon", or to the possibility that Russia may "turn off the taps" as leverage in a political dispute with the EU. But this is simply not credible: both Russia and EU member states and their energy companies have a vested interest in maintaining good trading relations.
For Europe, the disintegrating Gazprom-Naftogaz relationship is the greater worry. Both sides have in the past failed to use arbitration and dispute resolution to resolve their disagreements, and the ongoing arguments and two complete gas suspensions were the result. Given the recent statements by Russian and Ukrainian officials, another suspension of Russian gas supplies to Ukraine cannot be ruled out.
Jack D. Sharples received funding from the Economic and Social Research Council.
This article was originally published on The Conversation. Read the original article. Follow all of the Expert Voices issues and debates — and become part of the discussion — on Facebook, Twitter and Google +. The views expressed are those of the author and do not necessarily reflect the views of the publisher. This version of the article was originally published on Live Science.
Stay up to date on the latest science news by signing up for our Essentials newsletter.